Published on Mon, 2012-12-31 10:34
[Originally posted at OnEnsemble.org as "Recent book reviews — December 2012"]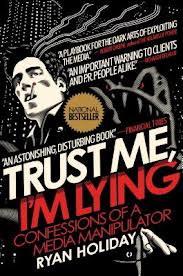 Trust Me I'm Lying — Confessions of a Media Manipulator
Ryan Holiday
pub. 2012, 259p
source: LAPL
Trust Me I'm Lying explains the failings of online news and the skewed economic base that encourages exaggeration and falsehood. Holiday explains how blogs are sustained by ad revenue based on "page-view" tallies and how this constant requirement for clicks encourages error-ridden "real-time" reporting easily manipulated by financially-motivated PR people like himself. He makes a strong case that these problems with the essential funding system of the internet threaten to undermine the value of the internet, the current repository of our knowledge, creativity, and greater culture.
For me, the book added another reason to block ads when using the web. Not only do ads negatively influence us as individuals, websites' dependence on them also undermines the essential relationship between writer and reader. Ads threaten the content they generate. We must demand a system of supporting reporters (newspaper subscription vs page-views, for example) and other creators of digital works which better encourages our values.
When you see a blog begin with "according to a tipster…" know that the tipster was someone like me tricking the blogger into writing what I wanted.

When you see "We're hearing reports" know that reports could mean anything from random mentions on Twitter to message board posts, or worse.

When you see "leaked" or "official documents" know that the leak really meant someone just e-mailed a blogger, and that the documents are almost certainly not official and are usually fake or fabricated for the purpose of making desired information public.

When you see "BREAKING" or "We'll have more details as the story develops" know that what you're reading reached you too soon. There was no wait and see, no attempt at confirmation, no internal debate over whether the importance of the story necessitated abandoning caution. The protocol is to press early, publishing before the basic facts are confirmed, and not caring whether it causes problems for people.

When you see "Updated" on a story or article know that no one actually bothered to rework the story in light of the new facts …

When you see a story tagged with "EXCLUSIVE" know that it means the blog and the source worked out an arrangement that included favorable coverage. Know that in many cases the source gave this exclusive tip to multiple sites at the same time or that the site is just taking ownership of a story they stole from a lesser-known site.

When you see "We've reached out to So-and-so for comment" know that they sent an e-mail two minutes before hitting "publish" at 4:00 A.M., long after they'd written the story and closed their mind, making absolutely no effort to get to the truth before passing it off to you as the news.