Published on Tue, 2012-04-10 07:00
[Originally posted at OnEnsemble.org as "Recent book reviews — April 2012"]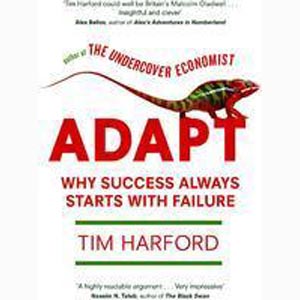 Adapt, Why Success Always Starts With Failure
Tim Harford
pub. 2011, 309p
source: LAPL
With examples from the Iraq war to the recent financial crisis, Harford makes the case that adaptation is more important than great ideas. Although I enjoyed the book, I found myself at times wanting more depth. Harford's topics are so varied, and so quickly changing, for me this book didn't have the authoritative tone and focus of a researcher like Dan Arielly's writing.
(Dad, criticisms of the book aside, I think you might really like this. I thought of you and our recent conversations numerous times when reading it.)
Once experts have acquired a broad knowledge of the political world, deeper expertise in a specific field doesn't seem to help much.
The three essential steps are: to try new things, in the expectation that some will fail; to make failure survivable, because it will be common; and to make sure that you know when you've failed.
The Howard Hughes Medical Institute, a large charitable medical research organization set up by the eccentric billionaire, has an 'investigator' programme which explicitly urges 'researchers to take risks, to explore unproven avenues, to embrace the unknown — even if it means uncertainty or the chance of failure'.
Grants, unlike prizes, are a powerful tool of patronage. Prizes, in contrast, are open to anyone who produces results. That makes them intrinsically threatening to the establishment.
Dairy products are so bad for the planet that Geoff would have done better to toast his bread but not butter it rather than buttering it but not toasting it.
The milk is only a third of the mass of the (Cadbury) chocolate, but even after reckoning the cost of transporting and processing cocoa beans and sugar, melting the chocolate into moulds in the factory, and transporting the final product, the milk is responsible for two-thirds of the carbon footprint of the chocolate.