Published on Mon, 2016-08-22 09:14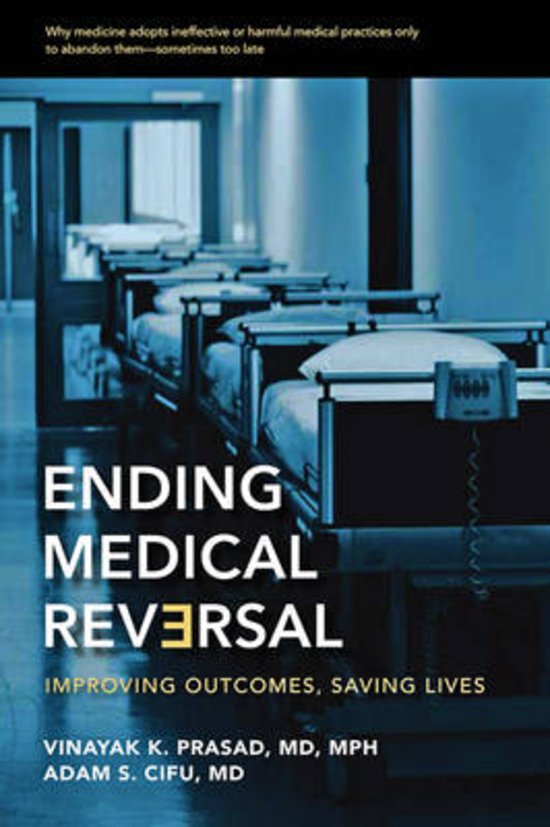 Ending Medical Reversal: Improving Outcomes, Saving Lives
Vinayak K. Prassad and Adam S. Cifu
pub. 2015, 264p
source: LAPL
In clear and engaging writing, Prassad and Cifu explain how an ineffective drug or a useless medical procedure can become standard treatment.  Some of the problems are readily apparent: industry-funded medical trials and direct-to-consumer marketing.  Others are more subtle, stemming from inherent limitations of science and the sheer complexity of the body.  Procedures that seem obviously helpful can in fact be reversed.  Take orthoscopic surgery of the knee to repair degenerative meniscal tears.  The procedure was widely recommended by doctors; at one point more than 700,000 patients were undergoing the surgery each year.  High-quality, randomized controlled studies revealed, however, that the procedure does not work.  Patients who underwent sham surgery (in which the surgeon only uses the orthroscopic tools to observe the inside of the knee rather than actually repair meniscus) had similar or better outcomes.  
Ending Medical Reversal lays out many of the reasons this can happen, even when all parties are well intentioned, including reliance on mechanistic understandings of the body, the use of surrogate measures instead of morbidity/mortality outcomes, and our natural predilection for technology and novelty.
The authors argue for stricter approval requirements and a commitment from patients and doctors alike to actually test our hypotheses with proper trials.  They demand that medicines and procedures be proven to work before becoming widely used.  They also recommend the kinds of questions patients should ask about potential drugs and procedures.
Your basic goal as a patient is easily stated: you need to be confidednt that every medical intervention you accept has been shown, in robust studies, to improve the outcome in which you are most interested.  If no such treatment exists (not an uncommon scenario, even in 21st-century medicine), you should be aware that the effectiveness of any therapy you consider is based more on conjecture and hope than on science.  Sometimes accepting such therapies is reasonable, but that acceptance should be a highly informed decision.

Step 1. What end points matter?
... Your doctor suggests a medicine and says that this medication will effectively lower your blood sugar and hemoglobin A1c (HbA1c), the number that we use to monitor the average blood sugar.  The questions to ask at this point are these: Why do we treat diabetes?  What are the end points we are trying to avoid? ... Sometimes the disconnect between the real, important outcomes and the stand-in, the surrogate outcome, can be truly disconcerting.  A patient with bladder cancer that has spread to his liver and lung might be offered a treatment that has been proved to shrink tumors.  This is not an important outcome. ...

Step 2. What type of studies shows that the treatment improves the end points that matter?
If you are lucky enough to find that there is evidence that the treatment you have been offered affects the end point you are interested in, you next must determine whether this is reliable evidence.

Step 3. How much will this treatment help?
If you are lucky and have been offered a treatment that addresses the end points you care about and has been proved in a well-done, randomized controlled trial, the answer to this question will help you decide whether the therapy is worth it. ... You need to ask your doctor the "number needed to treat".  Our best therapies that are meant to prolong life (outside the realm of cancer care) require us to treat 20 to 50 patients to provide benefit to one. ... Few people question colon-cancer screening, but it takes doing endoscopy on 191 people and following them for 11 years to prevent one case of colon cancer.
 
I felt lucky to have read the book when I did, finishing it the day before a meeting with a periodontist.  Ending Medical Reversal greatly informed the kinds of questions I asked.  Though my gums were fine, I was able to pick up on potential differences in my and the doctor's takes on evidence, differences that would be critical to further explore were he recommending a procedure.