Published on Wed, 2013-07-10 16:19
[Originally posted at OnEnsemble.org as "Recent book reviews – July 2013"]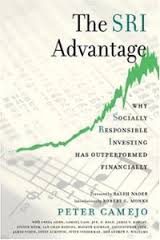 The SRI Advantage: Why socially responsible investing has outperformed financially
Peter Camejo
pub. 2002, 265p
source: LAPL
Although some of the arguments of this book feel overly simplistic, the main point of The SRI Advantage decisively changed my thinking about socially responsible investing. The book's core idea is that good environmental and social stewardship are a benefit to (if not a requirement for) the long-term success of the average major corporation. "…Investing in companies that are moving the economy in the right direction… gives an investor an advantage." Therefore, index funds that screen out corporations that do not meet certain standards can have (and arguably have had) higher returns than the S&P 500. When I think about tobacco for instance, it is certainly plausible that tobacco corporations will continue to decline in profitability. It's hard for me to imagine a future where tobacco is a sustainable profit-maker. So screening out tobacco companies from my investments is probably good investing, even from a purely financial-gain perspective.
Although I still haven't found a truly dependable book on socially responsible investing, The SRI Advantage shifted the balance of my options. While I'm not done reading, it now feels more likely that I will decide to use socially and environmentally screened index funds for my future investments.
A good book to start with is Samuel Case's Investing for Beginners. Learn what terms like mutual fund, closed end fund, stock, preferred stock, bonds, notes, figures, and options mean. Learn the basic principles of asset allocation.
Two excellent SRI balanced funds are Pax World and Winslow Balanced Fund.