Published on Sat, 2018-07-07 09:46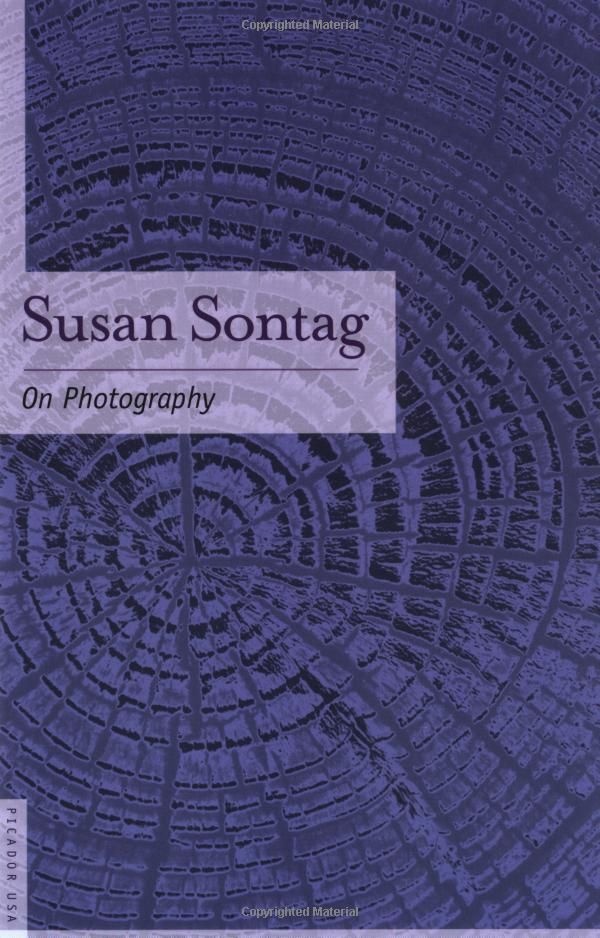 On Photography
Susan Sontag
pub. 1973, 208p
source: LAPL
I think it was in an interview with an art historian that I heard "On Photography" is an example of accessible, high-level art criticism.  As I'm thinking about promo photos for myself and my Arugakki performance project, I'm looking to read more about photography.  It's one of the areas of the museum where I feel least informed.
"On Photography" is full of thought-provoking ideas and it is indeed delightfully written.  It is still a bit over my head.  Later sections of the book require a comfort level with art history or criticism that I don't possess, so there are times when I lose the point.  I should return to this book after having read more elsewhere.
...the camera is the ideal arm of consciousness in its acquisitive mood.  [p. 4]
Although there is a sense in which the camera does indeed capture reality, not just interpret it, photographs are as much an interpretation of the world as paintings and drawings are.  Those occasions when the taking of photographs is relatively undiscriminating, promiscuous, or self-effacing do not lessen the didacticism of the whole enterprise.  This very passivity -- and ubiquity -- of the photographic record is photography's "message," its aggression.  [p. 7]
Most tourists feel compelled to put the camera between themselves and whatever is remarkable that they encounter.  Unsure of other responses, they take a picture.  This gives shape to experience: stop, take a photograph, and move on.  The method especially appeals to people handicapped by a ruthless work ethic -- Germans, Japanese, and Americans.  Using a camera appeases the anxiety which the work-driven feel about not working when they are on vacation... [p. 10]
The political understanding that many Americans came to in the 1960s would allow them, looking at the photographs Dorthea Lange took of Nisei on the West Coast being transported to internment camps in 1942, to recognize their subject for what it was -- a crime committed by the government against a large group of American citizens.  Few people who saw those photographs in the 1940s could have had so unequivocal a reaction; the grounds for such a judgment were covered over by pro-war consensus.  Photographs cannot create a moral position, but they can reinforce one -- and can help build a nascent one.  [p. 17]
In photography's early decades, photographs were expected to be idealized images.  This is still the aim of most amateur photographers, for whom a beautiful photograph is a photograph of something beautiful, like a woman, a sunset.  In 1915 Edward Steichen photographed a milk bottle on a tenement fire escape, an early example of a quite different idea of the beautiful photograph.  And since the 1920s, ambitious professionals, those whose work gets into museums, have steadily drifted away from lyrical subjects, conscientiously exploring plain, tawdry, or even vapid material.  In recent decades, photography has succeeded in somewhat revising, for everybody, the definitions of what is beautiful and ugly -- along the lines of what Whitman had proposed.  If (in Whitman's words) "each precise object or condition or combination or process exhibits a beauty," it becomes superficial to single out some things as beautiful and others as not. ... To photograph is to confer importance.  There is probably no subject that cannot be beautified; moreover, there is no way to suppress the tendency inherent in all photographs to accord value to their subjects.  [p. 29]
The limit of photographic knowledge of the world is that, while it can goad conscience, it can, finally, never be ethical or political knowledge.  The knowledge gained through still photographs will always be some kind of sentimentalism, whether cynical or humanist.  It will be knowledge at bargain prices -- a semblance of knowledge, a semblance of wisdom; as the act of taking pictures is a semblance of appropriation, a semblance of rape.
A decade after Fox Talbot's negative-positive process had begun replacing the daguerreotype (the first practical photographic process) in the mid 1840s, a German photographer invented the first technique for retouching the negative.  His two versions of the same portrait -- one retouched, the other not -- astounded crowds at the Exposition Universelle held in Paris in 1855 (the second world fair, and the first with a photography exhibit).  The news that the camera could lie made gettign photographed much more popular.  [p. 86]