Published on Wed, 2013-07-10 16:19
[Originally posted at OnEnsemble.org as "Recent book reviews – July 2013"]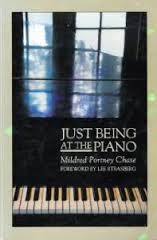 Just Being At the Piano
Mildred Portney Chase
pub. 1981, 101p
source: LAPL
This is a satisfying collection of the authors' thoughts on practice and performance, collected over the years of her own study and teaching. Chase is able to speak both practically and philosophically without seeming pretentious. Although she sometimes describes her approach in spiritual terms that I avoid (i.e. "Just being — at the piano — is to each time seek to reach that place where the only thing that exists is the sound and moving toward the sound…"), I suspect that I am in complete agreement with her end-goal. Well worth the quick read!
Even though the total act of playing is complex, especially on an advanced level, it consists of many simple natural movements which are dovetailed.
In singing, since the individual is the whole instrument, much attention is of necessity given to the sensations involved in producing the sound. Too often, with the pianist, this subject is dwelt on very little or not at all.
When he gets closer to the hidden object, his friends tell him, "you are getting warmer"… It is the same with our work at the piano as we seek out and become aware of the better of our sounds.
I do not believe in counting aloud while playing. The sound of numbers does not flow and does not guide the poetic rhythm of the music with ease. When we first learn the triplet rhythm, the method of counting most often used by teachers is one-and-a, two-and-a, and so on. With a young student, I prefer instead to explain its similarity to a three-syllable phrase, such as fiddle dee diddle dee, saying it and having the student repeat it. … It is much easier to feel the music through the use of merrily merrily or tu-ra-la tu-ra-la than with one-two-three…
C.P.E. Bach recommended practicing the composition, leaving out the ornaments at first, and then fitting them in once the piece was well studied. Following his suggestion makes it easier to apply the decorative patterns in a musically intelligent manner befitting the moods of a piece.