Published on Tue, 2016-04-05 20:37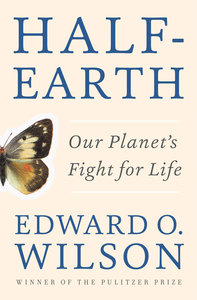 Half-Earth, Our Plantet's Fight for Life
Edward O. Wilson
pub. 2016, 272p
source: LAPL
Currently about 17.8 percent of the earth's surface is protected (15 percent land area and 2.8 percent ocean area), leaving about 33 percent of earth's surface requiring protection to reach Wilsons' recommendation.  Though this is clearly an ambitious goal, it doesn't seem unreasonable to imagine the US committing to preserving 50 percent of its total land area, as the effects of climate change grow ever-more visible and threatening.  It also doesn't seem impossible that a pact of like-minded countries might emerge to push the movement to global proportions.
It is encouraging to hear that achieving the 50 percent goal would halt the current "sixth extinction", where extinction rates of species is thousands of times faster than normal.  And if the 50 percent of protected land included key "hot-spot" zones of biodiversity, we might protect as much as 90 percent of the earth's remaining species.
Wilson is hopeful that our technical progress in the biological, computer, and robotic sciences will result in continued increases in productivity.  Moreover, he foresees these advancements leading to eventual reductions in consumption and waste, because the market is essentially tuned toward efficiency and population is naturally self-limiting as poverty is reduced.  While I certainly hope this will be the case, I am less optimistic.  Historically, the increased efficiency we have gained through technological advancement has been greatly outweighed by increased consumption.  Our electricity usage has not decreased as high-efficiency bulbs have become available... we have simply added lights and left them on longer.  It is the most-highly developed countries that produce the most CO2.
So for me, Wilson's arguments should inspire personal change.  Individuals need to take immediate action.  In the same way I feel a moral responsibility to reduce my CO2 production (my contribution to the underlying problem), I should take responsibility for protecting biodiversity.  Armed with Wilsons' "half-earth" goal, I will look for ways to support this movement (perhaps by financially supporting conservation projects).  Additionally, I think we should be responsible for exploring how our consumption might be contributing to the problem (increased bio-fuel use has encouraged conversion of forests to palm plantations, for example).  I believe only a combination of science/technology and this personal moral responsibility can save us.