Published on Sat, 2010-08-28 07:00
[Originally posted at OnEnsemble.org as "Book reviews – dance notation"]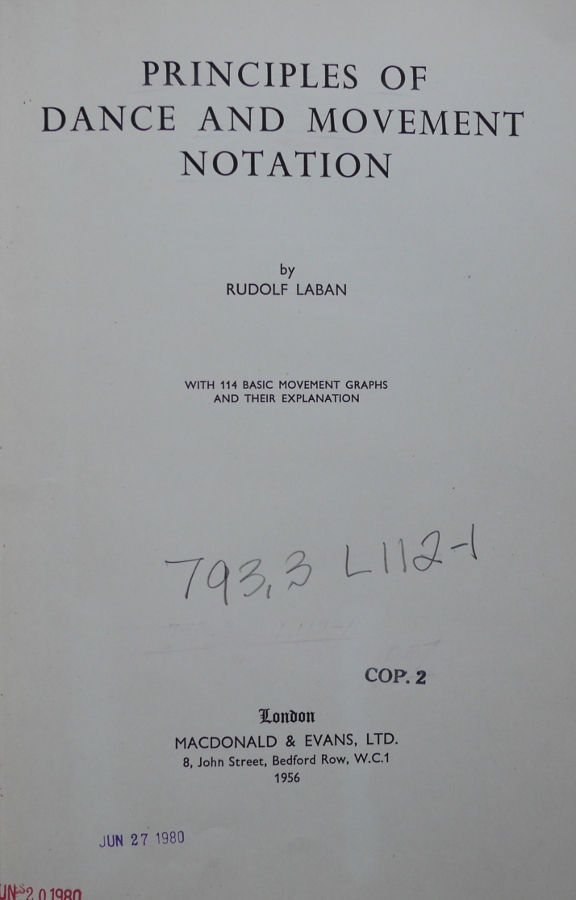 Principles of Dance and Movement Notation
Rudolf Laban
pub. 1956, 56p
source: LAPL
Laban was a fascinating man and this book provides a wonderful view into his concept of movement. Examples of his notation system are given with verbal descriptions of the movements, providing a decent, if not completely comprehensive, introduction to Labanotation. For the purposes of taiko notation, it feels more and more like utilizing Labanotation would require the input and training of a teacher. Unfortunately, the Laban/Bartenieff Institute of Movement Studies in New York tells me there is only one notator in Los Angeles, and she deals exclusively with western classical dance.
When there is a combination of two or more of these movements, the whole chord of several movements will mean each time something entirely different. In most of these cases, the nodding will be divested of its conventional significance, i.e. assent, and will become part of a movement expression which cannot be transoated immediately into simple words. For the language of movement consist only to a very small extent of conventional signs, replacing, as it were, words and phrases. The main bulk of movement and dance expression consists of motor elements, which can be freely combined to reveal something about the inner state of the moving person. Whether a person uses the language of movement for self-expression, liberation or enjoyment, or for the purpose of communicating with other people, is irrelevant to the present argument.
After all, dance as an art cannot be based on spontaneous improvisations only. Movement compositions, as well as poetry and music, have to be carefully constructed and built up according to the general rules of artistic composition. The profound mistake of considering the charming movements of a handsome body as an indication of the artistic value of a dance creation is entirely obsolete today. The development of a movement idea through different logical stages is nowadays the only try criterion of the worth of a dance. Intelligent and tasteful presentation is a factor to be clearly distinguished from creative invention.