Published on Sat, 2014-04-12 01:42
[Originally posted at OnEnsemble.org as "Recent book reviews – April 2014"]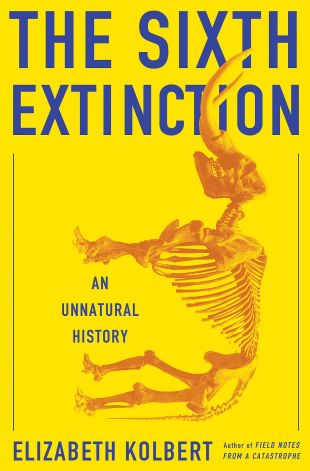 The Sixth Extinction — An unnatural history
Elizabeth Kolbert
pub. 2014, 319p
source: LAPL
After seeing an interview with the author on The Daily Show, I placed a hold on this book at the library. After a few months of half-excited/half-anxious waiting, The Sixth Extinction arrived. I devoured it in three days, reading with a mix of fascination and dismay. The book lays out just how severe humanity's impact has been on the environment, and just how dire the situation will become with business-as-usual climate change. Kolbert explains how the scale of our impact on the environment qualifies the current era as the sixth major extinction in the history of life of earth, with extinctions occurring at 10,000 times the background rate. She tells heartbreaking tales of tireless biologists working to save the last known Panamanian golden frogs and the Hawaiian crows. She tells how we have witnessed and facilitated the extinction of countless animals, like the great auk, whose final two survivors were strangled by hunters.
The last people to see great auks alive were around a dozen Icelanders who made the trip to Eldey by rowboat. They set out one evening in June 1844… With some difficulty, three of the men managed to clamber ashore… By this point the island's total auk population, probably never very numerous, appears to have consisted of a single pair of birds and one egg. On catching sight of the humans, the birds tried to run, but they were too slow. Within minutes, the Icelanders had captured the auks and strangled them. …

… The pair of birds that had been killed in that outing, they discovered, had been sold to a dealer for the equivalent of about nine pounds. The birds' innards had been sent to the Royal Museum in Copenhagen; no one could say what had happened to the skins. (Subsequent detective work has traced the skin of the female to an auk now on display at the Natural History Museum of Los Angeles.)
The whole of the book is similarly captivating and terrifying. Highly recommended.