Published on Mon, 2016-03-21 23:04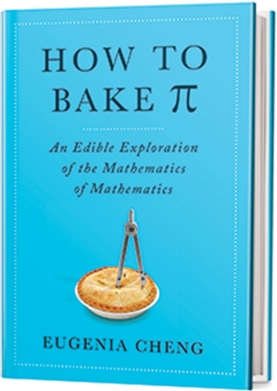 How to Bake Pi: An Edible Exploration of the Mathematics of Mathematics
Eugenia Cheng
pub. 2015, 304p
source: LAPL
Eugenia Cheng seems like she'd be an amazing friend.  She's obviously brilliant and full of curiosity.  She's constantly entertaining wide-ranging and interesting ideas, and sees pure math as a deeply human and enriching endeavor.  She's a great writer and communicator.  She bakes vegan raw chocolate cookies!  How to Bake Pi is a thoroughly-enjoyable, though somewhat scattered, look into her wonderful world.
If I have any criticism of the book, it is that the short sections, numerous asides, and postponement of explanations ("but more on that later...") makes the book feel scattered.  It didn't help that I read the book in short starts and spurts, perhaps 10-20 pages per day.  But while I occasionally felt adrift, I found the romp through pure mathematics entirely enjoyable and appreciated the introduction to category theory.  Category theory is a further abstraction of math which uses arrows to notate the relationships between objects.  This abstraction reveals similarities between disparate concepts and reveals assumptions we were sometimes unaware we were making.
Here was my eureka moment.
Ms. Cheng mentioned that addition is "associative" but not substraction.  In other words, order doesn't matter for addition, but sometimes it does for subtraction.  I started wondering why this would be.
Math indicates order of operations with parentheses.  For addition, the order doesn't matter.
(5 + 2) + 1 = 5 + (2 + 1)
7 = 7
But for subtraction, it does matter.
(5 - 2) - 1 =/= 5 - (2 - 1)
2 =/= 4
But why?  Why would it matter what order we take things away?  If I have 5 oranges to start with, it doesn't matter if I give away 1 first and then 2, or the other way around.  Either way, I gave away three total.  What's going on?
First of all, subtraction is really the same as adding the negative, so "5 - 2" is really a shorthand for "5 + -2".  If we take our parentheses away and treat the problem like addition,
"(5 - 2) - 1" is really shorthand for "5 + -2 + -1".  This obviously equals "2".
On the other hand, when we convert "5 - (2 - 1)" to an addition problem, we see that it becomes "5 + -2 + 1".  Note the final "1" is positive.  This is different than the version with the parentheses around the first two numbers because by subtracting both numbers "(2 - 1)", we're actually applying the preceding "-" sign to both the "2" and the "1" so we're doing "- -1".  This makes the "1" positive.
The reason that addition is associative is that combining "+" signs always results in more "+" signs.  And so if we think of our subtraction as "adding negatives", then it too is associative.  This is what's happening with the oranges example.  But when using parentheses and "-" signs, two "-" signs make "+", so subtraction isn't associative.
Cool!
To explore a bit further, I think all this means that putting the parentheses around the last two numbers should ALWAYS result in a larger number than when the first two are paired (because we actually wind up adding that third number).  Let's check!
(100 - 5) - 1 = 94
100 - (5 - 1) = 96 *bigger
(5 - 100) - 1 = -96
5 - (100 - 1) = -94 *bigger
(5 - 1) - 100 = -96
5 - (1 - 100) = 104 *bigger
This is the kind of fun that Ms. Cheng leads us to.  Highly recommended!