Published on Mon, 2016-08-08 10:00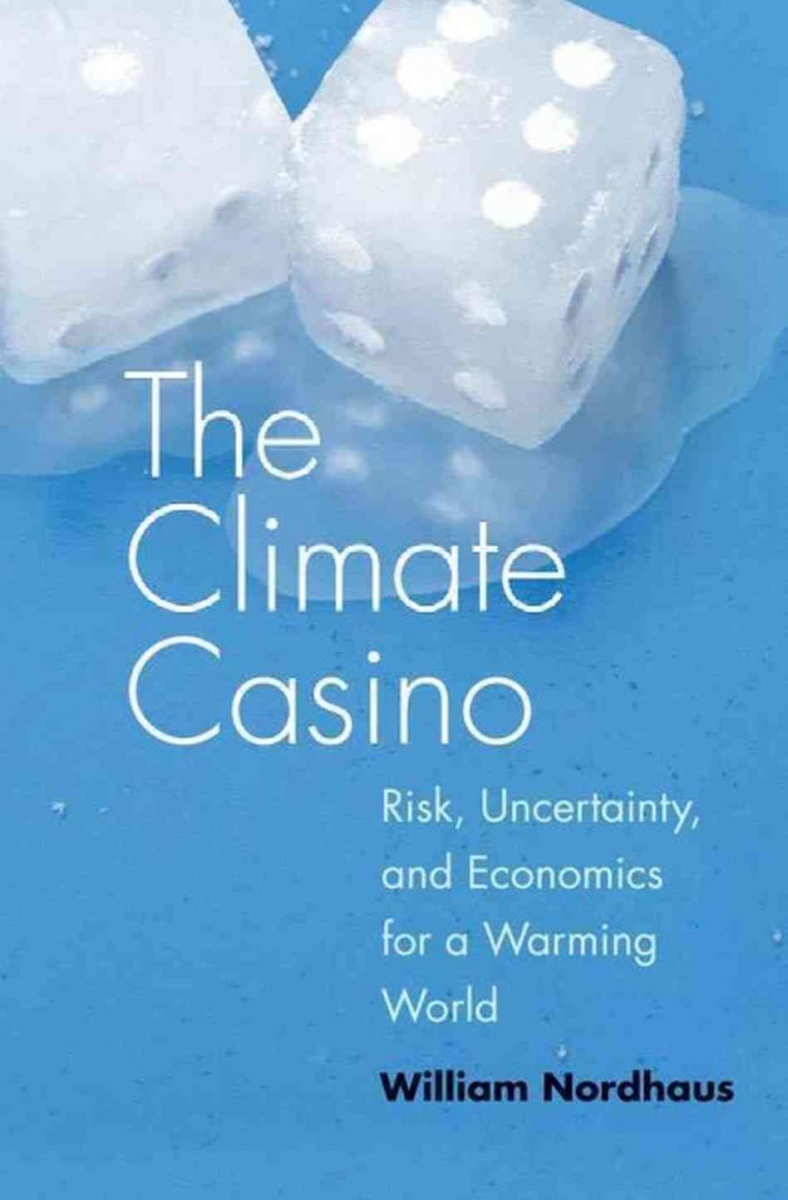 The Climate Casino - Risk, Uncertainty, and Economics for a Warming World
William Nordhaus
pub. 2013, 378p
source: LAPL
Climate Casino is a fair and well-considered take on climate change from the perspective of economics.  In five clearly organized sections, Nordhaus lays out the problem of climate change, the estimated effects on humans and the environment, the potential ways to address the problem, and the cultural and political obstacles to these solutions.  Though the data is more than three years old now, the major issues explored in the book are still current.  Unfortunately.
I appreciate Nordhaus' even-handed and careful explanations of uncertainty ("it must be stressed that these are at best educated guesses..."), mixed with his conviction that we must act quickly and forcefully.  He makes it clear that without implementing a price on CO2 emissions, it is extremely unlikely we can solve the problem.  At the same time, he is flexible in whether this is achieved through taxes or cap and trade, and feels countries can use whichever is best suited to their distinct political climates.
There were moments I felt frustrated by the underlying economics.  The difficulty of assigning a price to human life and nature makes incoroporating these crucial elements very messy.  At times I thought economics just isn't going to be useful to inform our decisions.  Having finished the book, however, I'm back in the Nordhaus camp.  With all its failings, economics must be applied to climate change.  And I can address the inadequacy of the economics in my own lifestyle, so that economics can determine national and international policy, and my own morality and ethics can set my personal CO2 limits.  Economics won't be enough, but aligning the markets of humanity with the world's health must be part of the solution.
From this evidence, I conclude the following.  If the costs are small, then we would surely want to keep climate change and increases in CO2 concentrations to the bare minimum.  Why risk any damages to coastlines, ecosystems, and small islands if we can avoid them at a small cost?  On the other hand, if aiming for a very low temperature increase involves cutting back drastically on central human priorities such as food, shelter, education, health, and safety, then we would need to take a careful look at the trade-offs.  We might be willing to run some risks on wheat yields or sea-level rise rather than spend a fortune limiting warming to the lowest feasible level.  After all, we might be able to spend that money more fruitfully on improving seeds, water management, and infrastructure.  ...  The implication is that we cannot realistically set climate-change targets without considering both the costs of slowing climate change and benefits of avoiding the damages.  This is where economics comes back into the picture.
Now that we have reached the end, what would be the findings of an impartial jury?  A fair verdict would find that there is clear and convincing evidence that the planet is warming; that unless strong steps are taken, the earth will experience a warming greater than it has seen for more than a million years; that the consequences of the changes will be costly for human societies and grave for many unmanaged earth systems; and that the balance of risks indicates that immediate action should be taken to slow and eventually halt emissions of CO2 and other greenhouse gases.