Published on Sat, 2013-04-13 09:00
[Originally posted at OnEnsemble.org as "Recent book reviews – April 2013"]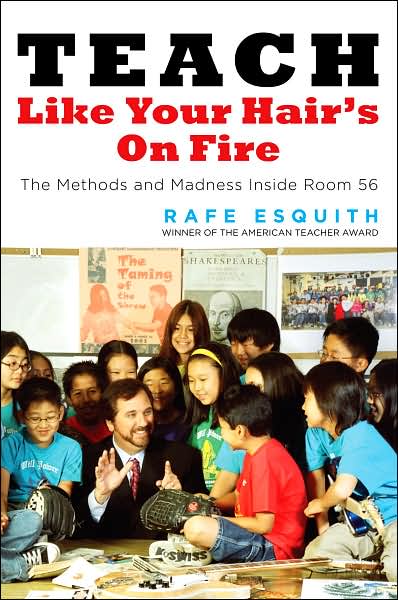 Teach Like Your Hair's On Fire — The Methods and Madness Inside Room 56
Rafe Esquith
pub. 2007, 244p
source: LAPL
This a fantastic book by dedicated Los Angeles teacher, Rafe Esquith, outlining his general teaching philosophy as well as specific ideas for lessons that make an impact. Although it seems to me that the intensely personal nature of teaching complicates direct imitation of Esquith's methods, for inspiration alone, Teach Like Your Hair's On Fire is well worth reading. I read the book while preparing for the Los Angeles Taiko Institute (opening this summer!) and was able to use the thought-provoking concepts to imagine our teaching strategy and lesson ideas. I wonder what a "taiko practice problem solving" step-by-step method might look like!
I love to weave other subjects into our mental math game. There are so many numbers we want our kids to know.

Rafe: Start with the number of states in the United States of America (50).
Add a dozen. (Now they are thinking 62.)
Subtract the number of Supreme Court justices. (The kids subtract 9 to get 53.)
Add the number of weeks in a fortnight. (There are 2–now the kids have 55.)
Divide by 11 and show me your answer.

All the students will hold up a 5. It is amazing how well the kids retain an astonishing amount of information.
When Gretzky was a child and would ask permission to go outside and skate, his father's "yes" was conditional. Gretzky was not allowed to simply go and skate around. He had to go to the pond and work on a specific move or shot. He learned at an early age to practice effectively and not waste time.
… showing a film is not an excuse to take a break. Days before the film will be shown, I begin building excitement by listing its title on a "Coming Attractions" board in our class. I prepare the kids by talking about sections of the film that may be difficult for them to understand.
The orchestra was led by one of the finest instructors I have ever come to know, a woman named June Cheleden. She was able to manage more than a hundred students who had no previous musical training, and she had them playing difficult pieces within a year.
Always give students guidance, but remember that it's important for them to learn to practice for themselves and not for their teacher.
HOW TO SOLVE A PROBLEM

Step I. Understand the Problem
(Put your pencil down)
Collect Relevant data

Step II. Choose an Appropriate Strategy
Act It Out
Choose an Operation
Draw a Picture
Guess and Check
Look for a Pattern
Make a Chart or Table
Make an Organized List
Use Logical Reasoning
Work Backwards

Step III. Solve the Problem
(Pick your pencil up)

Step IV. Analyze
Does My Answer Make Sense?
My coworker Andrew Hahn, one of the great art teachers in the nation…
I often see school groups crossing the street in a line with one adult at the front and one at the back. Several articles in my [traffic accidents] file tell tell tragic stories that resulted from this street-crossing procedure. In most cases, students in the middle of the line are struck by a car. When Room 56 crosses a street, we follow two procedures. First, no child may ever step off a curb before I give him the green light. Second, I go out into the street and stop traffic completely.