Published on Sat, 2011-07-23 10:05
[Originally posted at OnEnsemble.org as "Recent book reviews — August 2011"]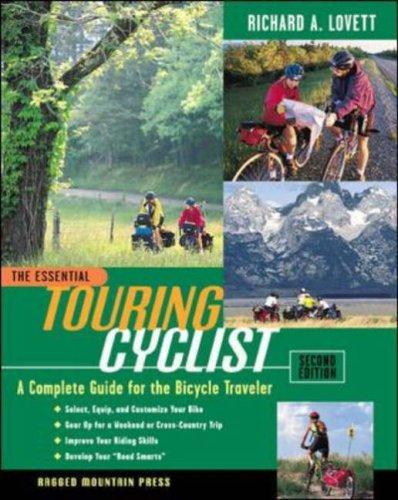 The Essential Touring Cyclist
Richard A. Lovett
pub. 2001, 160p
source: LAPL
For the last few years I have been loosely tracking my energy consumption and CO2 production. The one clear message is that driving and flying are by far my worst activities for the environment. I am struggling with how to move toward a more sustainable approach to transportation, and how to balance environmental concerns with the needs of being a touring musician. One idea: limit myself to only touring certain months of the year, stay on the west coast, and go by bike.
Hiro and I recently rented a tandem recumbent trike and went for an afternoon ride of about 22 miles. It was delightful. I'm now thinking I might try and build one and see if we can tackle longer distances. The Essential Touring Cyclist includes great info on both the technical and social aspects of touring. It's well written and authoritative.
gear inches = (wheel diameter in inches X teeth in chainring) / teeth in rear cog
For loaded touring in hilly terrain, I like a gear range of at least 21-100 inches… If your bike shop can get a suitable cassette, I recommend an 18-inch gear as your lowest.
If you've ever seen bike racers, you might have noted that their feet spin at a fantastic pace — well over 100 revolutions per minute. That's because racers know something that most beginning cyclists don't: spinning at a rapid cadence is easier – both on knees and on stamina – than grinding along in high gears. … Increasing your cadence takes practice. … Riding at your normal cadence, try downshifting one gear spinning faster to maintain speed. Your cadence should increase by 10-15 percent — for example, from 65 to 75 rpm.
What is the appropriate mileage base (for training)? … if your goal is simply to complete a long, single-day ride or a two-day self-contained tour in reasonable comfort, you can manage quite well if your weekly mileage is at least 125 percent of the distance of the ride on tour.
Most commercial campgrounds will sell you one (a shower) at a reasonable price, but for an even cheaper shower, go to a municipal swimming pool. State park campground showers could also be available to cyclists, sometimes with no fee.
An excellent reference for preparing tasty dishes with a minimum of equipment is Don Jacobson's One Pan Gourmet: Fresh Food on the Trail.
The organization (Adventure Cycling Association) has mapped thousands of miles of cross-country routes… For self-contained touring, its superb maps make for easy route finding.