Published on Tue, 2014-09-09 14:28
[Originally posted at OnEnsemble.org as "Recent book reviews – September 2014"]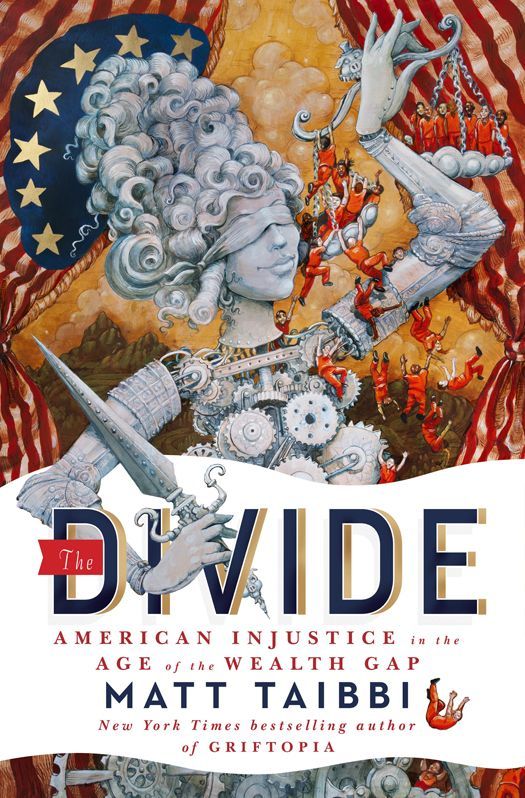 The Divide — American Injustice in the Age of the Wealth Gap
Matt Taibbi
pub. 2014, 416p
source: LAPL
This is a fantastic account of the 2008 Wall Street collapse and our subsequent lack of prosecution of those who were criminally responsible. Taibbi contrasts this lax treatment of Wall Street executives with the disproportionate pressure police place on immigrants and the poor. Although the juxtaposition of the two issues is problematic — a more fair approach might simply compare each topic individually to the ideals of our justice system — the incredible discrepancy helped me realize I too am subject to thinking of the wealthy as less culpable than the indigent. The Divide has greatly heightened my awareness of injustice toward the poor in Los Angeles. Highly recommended reading.
Our prison population, in fact, is now the biggest in the history of human civilization. … there are also more black men in jail right now than there were in slavery at its peak.
"… Rudy Giuliani's second police commissioner. The first was Bill Bratton — Mr Broken Windows."
… Safir's police force drastically increased its workload. "One million police man-hours per year" is Levine's calculation just for marijuana possession arrests in the years since Safir took over the NYPD.

And that was just weed. By the mid-to-late 2000s, police stops had multiplied all across the board for a range of seemingly minor offenses. The numbers by 2012 would be 600,000 summonses a year, more than three times the levels from the late 1990s. Of those, "only" 50,000 were for simple marijuana possession. Another 140,000 would be open-container violations for carrying alcohol in public. An additional 80,000 summonses per year would be written for "disorderly conduct." And an incredible 20,000 summonses per year would be given out for riding bicycles on sidewalks.
… when judges set bail in these nuisance cases, they're carefully picking numbers just high enough to keep people in jail.

A study by Human Rights Watch from 2008 bore this out. They looked at 117,064 nonfelony cases in New York that year and found that more than three-fourths of the defendants were released on their own recognizance. But 19,137 of the defendants were given bail of $1,000 or less, and an incredible 87 percent of those still couldn't post bail. Those people who couldn't mail bail spent an average of fifteen days in jail awaiting trial.
… a perfect example of the state's "speedy trial" trick.

Arrested on a domestic violence charge, Josh's client came to court only to find out that the prosecution was "not ready" to proceed with its case. Usually this means they don't have a witness lined up, or there's some other problem.

So the DA asked the judge for fifteen days. The judge granted the fifteen days, then looked down at his calendar and found that he had no availability to actually hear the case… So instead, he scheduled the defendant's hearing for more than a month later.

But here's the catch. Days after the DA won his delay, he filed a "certificate of readiness," stating that the prosecutor's office was, indeed, now ready for trial. But the trial had by now already been adjourned for more than a month. …

Nonetheless, because the prosecutor had declared himself "ready" two days after trial, the court only "charged" the state two days toward the ninety.
Years after the collapse of Lehman Brothers, many of the company's creditors were still feeling the sting. The city of Long Beach, for instance, has been enacting sweeping budget cuts ever since the crash. In the first year after Lehman's collapse, the Long Beach school system cut summer school classes and bus routes for one thousand students. The city announced plans to lay off thirty-four policemen and close at least one fire station. The mayor asked the city council to cut all funding for the Long Beach Museum of Art. And the city continues to be way behind the financial eight ball. In fact, its projected deficit for 2013 almost exactly matches the Lehman shortfall — 20.3 million.
The money is so good, police will show up anywhere where they're likely to find an undocumented Mexican near a car.

"They even used to camp out outside Hispanic churches on Sundays," says Corso.

"They're easy prey," concurs Victor Nieblas, a Los Angeles attorney who handles immigration cases. "For some police departments, these immigrants, they're walking ATM machines."
American criminals have constitutional rights not because they are natural-born Americans but precisely because they are criminals. Deportations, however, are not part of the criminal justice system. …

So the undocumented alien who kills a room full of Rotarians with an ax has a right to counsel, a phone call, and protection against improper searches. The alien caught crossing the street on his way to work has no rights at all.
But the truth is, she's likely to lose her case and will almost certainly be deported soon. Her seven children and her husband will almost certainly stay here in America. So she has a year left with her family. All because she got her fender nicked on the way to pick up some milk.

The number of stories like this boggles the mind. Three hundred ninety-six thousand, nine hundred and six people were deprted from the United States in 2011.

Of those, just over a thousand (1,119) had records for homicide, and just under six thousand (5,848) had convictions for sexual offenses. Roughly 80,000 more had other, lesser convictions for offenses like DUIs.

The overwhelming remainder were like Ella, people guilty of little civil infractions, what immigration authorities term Level 3 offenses: traffic violations, immigration violations, and so on. …

"Obama has broken all the deportation records," says Nieblas. "One million people in just a few years. Incredible."
The jailing-Hispanics business is the perfect mix of politics and profit. … Arizona governor Jan Brewer, for instance, had two ex-CCA lobbyists on her staff helping write the legislation when she pushed through her notorious 1070 law, which essentially legalized racial profiling in the cause of catching illegal immigrants.
Wells Fargo, for instance, has nearly $100 million invested in the GEO Group, plus about $6 million in CCA. Bank of America, General Electric, Fidelity, and Vanguard are all major investors in at least one of the three big prison companies.
It had actually been legal for an undocumented immigrant to obtain a driver's license until 1993. That was when then-governor Pete Wilson signed into law SB 976…

… in 2003, then-governor Gray Davis had signed into law a measure briefly repealing Wilson's ban on immigrant licenses. But the window of legality was shut by Arnold Schwarzeneggar very shortly after Davis was ousted from office… Years later, Governor Jerry Brown wold again sign a law permitting undocumented residents to have driver's licenses.
… she got caught up at a checkpoint at the intersection of Soto and Slauson Avenue…
In San Diego County, from the late 1990s on, through today, the state preemptively searches for evidence of fraud in the homes of the tens of thousands of people who have applied and are applying for cash assistance via CalWORKs…
In those tens of thousands of searches over the years, P100 investigators have looked in every nook and cranny, finding sins everywhere. They rejected an applicant who shared an apartment with a roommate for failing to properly label her food in the refrigerator — how could the state be sure, after all, that the applicant wasn't illegally sharing food with her roommate? They rejected a woman for having a Victoria's Secret bra ("How can you afford this?" the investigator asked…), for having too big a jacket in the closet (it must be a man's!)…
But the U.S. Ninth Circuit Court of Appeals, led by an internment camp survivor named A. Wallace Tashima, nonetheless decided P100 wasn't in any way unconstitutional. Tashima's bizarre reasoning was that the P100 visits were not searches under the Fourth Amendment — but even if they were searches, they were not unreasonable.
Recouping "erroneous" overpayments to welfare recipients has become a craze for states all over the country. In 2010 Barack Obama's Department of Agriculture lifted a ten-year ban on collecting food stamp overpayments, and states all over the country went hog wild trying to recover lost monies.
California counties like San Diego, Alameda, Riverside, Bayview, and others all file upward of forty or fifty cases a month, and in some cases as many as a hundred cases a month. These cases are often felony fraud cases, and DAs are hot for them because (a) they never, ever lose them and (b) it boosts their records.
In the wake of the 2008 crisis, Clinton is most frequently criticized for overseeing two radical changes to our regulatory structure: the repeal of the Glass-Steagal Act to allow the mergers of investment banks, commercial banks, and insurance companies, and the Commodity Futures Modernization Act of 2000, which deregulated the burgeoning derivatives market. Less commonly understood is that Clinton, Greenspan, Rubin, and Summers also oversaw the collapse of what are known as "selective credit controls," the tools used to rein in irresponsible lending.
By 1996, Bill Clinton's single biggest private campaign contributor would be Goldman Sachs, a distinction he would share with the next Democratic president, Barack Obama.
… the entire business model for something like Chase's credit card business is not much more than a gigantic welfare fraud scheme. …

The crucial thing to understand is that if businesses like consumer credit cards are going to give cards away in the mail to everyone with a pulse, then the process almost by definition has to involve fraud. In a mass society where obtaining credit is as easy as it is, there's probably no way to efficiently collect on delinquent accounts by writing real affidavits, filing legitimate, error-free lawsuits, and serving legitimate sommonses in each and every individual case. Without the shortcuts, it doesn't work.
What is better for society, they ask, sending a few HSBC bankers to jail, or snagging $1.9 billion in fines from the bank?

… what [that argument] concedes is that there's a concrete difference between how we treat an individual who commits fraud within the structure of a giant multinational company… and how we treat, say, an ordinary broke person who commits welfare or unemployment fraud.
… a federal judge named Shira Scheindlin handed down a ruling against New York's stop-and-frisk policies. … Scheindlin, among other things, cited a popular new book, The New Jim Crow, in her ruling and noted that since 2004 more blacks and Latinos have been accosted by police than actually live in the city.