Published on Thu, 2009-07-09 10:20
[Originally posted at OnEnsemble.org as "Recent book review - July 09"]
I've just finished a string of music-related books that I very much enjoyed.  I can heartily recommend checking them out from your public library.  I've returned my copies to the LAPL system, so they're happily waiting for the next reader.  (The LAPL holds system is incredible!  Any book in the whole Los Angeles system can be sent to your nearest LA library, for free!  Now *this* is what taxes are all about!)
The take-home messages from these books for me are:
Experiencing music is a whole-brain endeavor.
The ears are wired to multiple regions of the brain.
Emotional responses to music are partly hard-wired and thus similar across cultures.
Savant-like musical skills are the product of the brain's extreme specialization and sometimes have a down side.  (A person might have perfect pitch, but difficulty following melody.  Another might be able to sing fluently in dozens of languages, but not be able to add simple numbers.)
Master musicians (and masters of anything) are a  product of their surroundings, circumstances, and luck.  Plus 10,000 hours of practice.
Expertise in any field requires an array of skills working together.  An IQ of 200 does not substantially increase one's chances of winning a Nobel Prize.  Everyone over 100 or so, is "good enough", but the Nobel Prize winner has the fortune and luck that their various, good-enough skills all work together toward the prize.
Music provides insight into humanity.  Practicing music provides personal insight.
Read on for brief reviews of the books.  [Now separated into three different reviews.]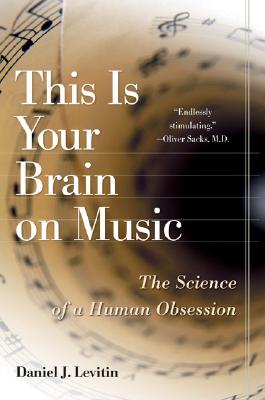 Title: This Is Your Brain on Music
Author: Daniel J. Levitin
Source: Los Angeles Public Library
Interest: 4 stars
This is Your Brain on Music is a thoroughly readable exploration of the science of the brain as it processes melody, timbre, pitch, rhythm, meter, etc.  I very much enjoyed reading it from a professional musician's perspective; the book's model of the brain seems to match the model I've developed in my own practice.  The book posits that drumming practice is an intensely complicated exercise for the brain, that the act of drumming is driven by multiple, divergent regions of the brain, and that practice benefits from positive mood and genuine interest.
The book is filled with great information and I highly recommend this book to any music lover or professional musician with technical/scientific interest.
Note: An article on similar topics has just been published at Scientific American online here (broken link).