Published on Fri, 2011-07-08 10:48
[Originally posted at OnEnsemble.org as "Recent book reviews – July 2011"]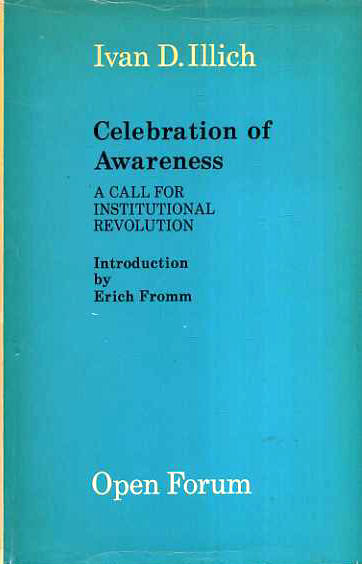 Celebration of Awareness: A Call for Institutional Revolution
Ivan Illich
pub. 1989, 189p
source: LAPL
Although much of the book deals with less-interesting issues of the Catholic church, Illich's challenge of the assumption that school is a necessity of modern humans is extremely interesting. Though schooling is usually associated with advancement of the poor, Illich illustrates convincing examples in south America where education benefits the elite, and justifies segregation of the classes.
The number of satisfied clients who graduate from schools every year is much smaller than the number of frustrated dropouts who are conveniently graded by their failure for use in a marginal labor pool. The resulting steep educational pyramid defines a rationale for the corresponding levels of social status. Citizens are "schooled" into their places. This results in politically acceptable forms of discrimination which benefit the relatively few achievers.
It is now common to demand that the rich nations convert their war machine into a program for the development of the Third World. The poorer four-fifths of humanity multiply unchecked while their per capita consumption actually declines. This population expansion and decrease of consumption threaten the industrialized nations, who may still, as a result, convert their defense budgets to the economic pacification of poor nations. And this in turn could produce irreversible despair, because the plows of the rich can do as much harm as their swords… Only a minority needs heavy weapons, while a majority can become dependent on unrealistic levels of supply…
The process by which the marketing of "foreign" products increases underdevelopment is frequently understood in the most superficial ways. The same man who feels indignation at the sight of a Coca-Cola plant in a Latin American slum often feels pride at the sight of a new normal school growing up alongside. He resents the evidence of a foreign "license" attached to a soft drink which he would like to see replaced by "Cola-Mex." But the same man is willing to impose schooling – at all costs – on his fellow citizens, and is unaware of the invisible license by which this institution is deeply enmeshed in the world market.
Why not, for example, consider walking as a long-range alternative for locomotion by machine, and explore the demands which this would impose on the city planner? And why can't the building of shelters be standardized, elements be precast, and each citizen be obliged to learn in a year of public service how to construct his own sanitary housing?