Published on Mon, 2017-07-31 11:23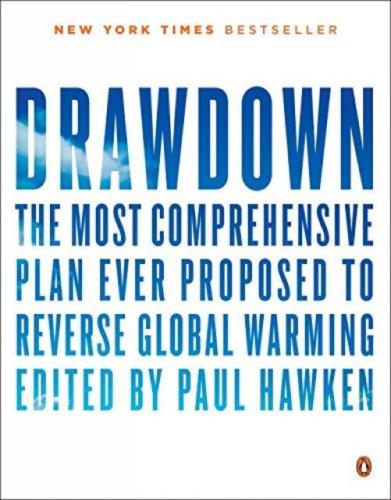 Drawdown: The Most Comprehensive Plan Ever Proposed to Reverse Global Warming
edited by Paul Hawken
pub. 2017, 240p
source: LAPL
Drawdown is an impressive collection of solutions to climate change, organized by category ("energy", "food", "women and girls"...) and ranked by their impact on global warming.  The book begins with inspiring optimism and backs that up with plausible, well-researched solutions, written by qualified scientists.
There have been agreements and proposals on how to slow, cap, and arrest emissions, and there are international commitments to prevent global temperature increases from exceeding two degrees centigrade over preindustrial levels. ... However, there is, as yet, no road map that goes beyond slowing or stopping emissions.
This book provides that roadmap.  The writing is clear and concise and feels honest and respectful.
As an individual trying to improve my carbon footprint, the hierarchy of solutions provided insight into where I should focus my energies.  The most important realization is that refrigerants are the number one contributor to global warming, so I need to do everything I can to encourage legislation that mandates the safe capture of spent refrigerants.  There are important caveats sprinkled throughout the book and I should have taken notes while reading.  Drawdown offers the opportunity to identify one's areas for improvement and tackle the most significant.