Published on Tue, 2011-12-20 23:44
[Originally posted at OnEnsemble.org as "Recent book reviews — December 2011"]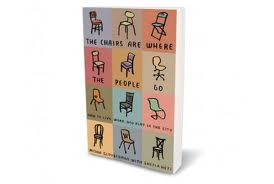 The Chairs Are Where the People Go — How to live, work, and play in the city
Angela Byron, Addison Berry, Nathan Haug, Jeff Eaton, James Walker, Jeff Robbins
pub. 2011, 175p
source: LAPL
Although I wasn't initially inspired by this book, at about 50 pages in, I acclimated to the short entries on random topics and grew attracted to the real-life protagonist, Misha Glouberman. Having been recommended by the brilliant Margaret McKenty and following the book's laudatory preface, I probably had set my expectations too high. But reading the book while travelling by bus, overhearing others' complaints about the challenges of daily life, and feeling particularly reflective, I came to see the charm of The Chairs Are Where the People Go. Some of Misha's ideas seem a little immature, and I disagreed with perhaps 20% of the ideas. In How to Improvise, and How Not to Not Improvise", for example, he says, "… I'm much more interested in improvisation as a practice, or as something to do, than as something for people to watch." Hallelujah, Misha! He immediately goes on, however, to explain how virtuoso performance is essentially "Look at how good I am". Although I might have agreed 10 years ago, I have come to be very inspired by displays of skill and and associate Misha's reactionary view with inexperience and lack of confidence.
In the end, these bits of disagreement likely kept me more engaged with the book and I very much enjoyed reading it.
During these events, people are able to derive a lot of aesthetic pleasure from the very simplest group exercises. You get a roomful of people and you ask them to close their eyes and make and hold a vowel sound together. And you know what? It sounds amazing!
Charging for My Classes… now I just name a price: "$360 or whatever you want." … Amid all this, though, I'm also a real stickler about payments. If people drop out of the class, I usually won't refund their money. People are allowed to pay in installments, but they have to give me postdated checks up front. So there is a contract and the contract is binding, it's just up to that person to choose what the terms of the contract are.
I think playing the (improvisation) game can make people smart about things like: what it means to participate in a pattern versus what it means to break a pattern; what it means to try and start a new pattern or to do something that's a counterpoint.
We're all proud of our society's ability to bring things about without violence. So, for instance, we applaud freely elected governments, where the reins of state can change hands without people having to kill people. But I think that a more advanced version of that goal is to be able to do things without antagonism.
At Trampoline Hall, after every lecture, there's a Q&A with the audience. One of the things that's really great about the show is that the Q&A's really work. The audience asks really good questions. I think a big part of the reason they ask really good questions is that at every show, right at the beginning, I talk for a long time about what a good question is. The first thing I tell people is that a good question has to be a question. … I tell people that if they think they have a two-part question, what they really have are two questions, and that they should just pick the better of the two. … What I warn people against is feelings of pride. I ask them to pay attention to the pictures in their minds when they feel a question coming on, and if they see themselves becoming enormous and floating God-like above the audience, and the lecture getting smaller and smaller in the distance, then maybe that's a sign the question isn't that great.