Published on Tue, 2011-12-20 23:44
[Originally posted at OnEnsemble.org as "Recent book reviews — December 2011"]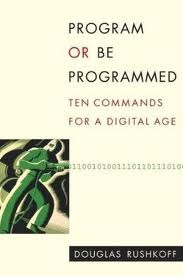 Program Or Be Programmed: Ten commands for a digital age
Douglas Rushkoff
pub. 2010, 149p
source: LAPL
The opening is gripping. "When human beings acquired language, we learned not just how to listen but how to speak. When we gained literacy, we learned not just how to read but how to write. And as we move into an increasingly digital reality, we must learn not just how to use programs but how to make them." Fantastic! I am a big believer that our society's move toward "user-friendly", dumbed-down, Apple-approved products is a detriment to our potential and this book contains interesting perspective on the topic. After setting the bar so high at the beginning, however, many of the later sections are less compelling. My confidence in the author took a significant hit with the borderline-mystical description of the limitations of digital audio (versus analog). "… early tests of analog recordings compared to digital ones revealed that music played back on a CD format had much less of a positive impact on depressed patients than the same recording played back on a record. Other tests showed that digitally recorded sound moved the air in a room significantly differently than analog recordings played through the same speakers." What?! It sounds to me like Rushkoff is letting tecnhophobia get the best of him here. But in other areas, his insight into the internet and its cultural effects are enlightening. While I find Eben Moglen's use of history and understanding of digital culture more compelling, Program Or Be Programmed is worth the quick read.
Like the participants of media revolutions before our own, we have embraced the new technologies and literacies of our age without actually learning how they work and work on us. And so we, too, remain one step behind the capability actually being offered us. Only an elite — sometimes a new elite, but an elite nonetheless — gains the ability to fully exploit the new medium on offer. The rest learn to be satisfied with gaining the ability offered by the last new medium. The people hear while the rabbis read; the people read while those with access to the printing press write; today we write, while our techo-elite programs.
… the more we live this way, the more we value the digital's definition of the now. Our search engines preface their more relevant results with a section of "live" links to whatever blog comment, social networking message, or tweet has most recently been posted containing the words in our queries. The only weighting that matters is how few seconds have transpired since it was blurted.
The danger, of course, is that today's "penny for your friends" social networks will survive long enough — at least one after the other — for their compromised social standards to become accepted or even internalized by users. … If the social urge online comes to be understood as something necessarily comingled with commercial exploitation, then this will become the new normative human behavior as well.