Published on Sat, 2016-04-16 21:05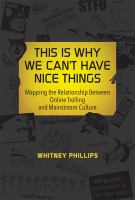 This Is Why We Can't Have Nice Things -- Mapping the Relationship between Online Trolling and Mainstream Culture
Whitney Phillips
pub. 2015, 169p
source: LAPL
My first argumentative plank is that, within the postmillennial digital media landscape of the United States, trolls reveal the thin and at times nonexistent line between trolling and sensationalist corporate media.
This book complicates the idea that trolls, and trolls alone, are why we can't have nice things online.  Instead, it argues that trolls are born of and embedded within dominant institutions and tropes, which are every bit as damaging as the trolls' most disruptive behaviors.  It was perfect "vacation" reading, where the adventure of travel prepared me to better imagine and enjoy other online worlds.
... a highly distinctive vernacular described by folklorists as "argot."  In addition to its fixation on transgression, the trolling argot I encountered was characterized by tortured, ungrammatical syntax and delight in improper spelling, inappropriate word choices, and bizarre anachronisms.  For example, instead of saying please, trolls said "plox"; instead of saying masturbation, trolls said "fap"; "sauce" was shorthand for "where did you find that image?" while "inb4 an hero" meant "I expect you'll tell me to go kill myself, but I've already thought of that, so don't bother."
... trolls and sensationlist corporate media outlets are in fact locked in a cybernetic feedback loop predicated on spectacle; each camp amplifies and builds upon the other's reactions, resulting in a relationship that can only be described as symbiotic.
According to the trolls I interviewed, the media was indirectly responsible for the popularity of RIP pages [Facebook memorial pages], and therefore was the indirect target of organized trolling behaviors.  By sensationalizing the "sexier" deaths (i.e., those guaranteed to bolster ratings), the media -- or as Paulie Socash often called them, "tragedy merchants" -- essentially cattle-drove hourdes of mourners onto Facebook.  Already distressed and emotionally invested in the emerging story, these users were easy targets for trolls... The media subsequently commodified these same vulnerabilities through advertising revenue.
... for millions of Americans, both wars were only ever experienced remotely (i.e., via the news or online)... a disconnect compounded by the Bush administration's insistence that unless Americans went about their daily lives as if nothing was wrong, the terrorists would win.  In short, Americans were asked to dissociate.  They were asked not to dwell on the consequences of the wars, of torture, of the resulting economic bloodletting.  They were asked to go on vacations, and to shop, and not to ask too many tough questions.  Is it any surprise, then, that trolls -- who essentially function as cultural dung beetles -- would choose to hold the tragedy of others at arm's length?
Consider the effort to save Troy, Michigan's public library.  Due to numerous budget cuts, the library in Troy was facing likely closure.  The only thing that would save the library was a slight tax increase [.07%], which the local anti-taxation Tea Party vowed to oppose.  Initially, the Tea Party successfully quashed support for the measure.  But late in the campaign, Arc Worldwide, an advertising agency within the Leo Burnett Group stepped in.  Arc posed as a group called Safeguarding American Families (SAFE) and launched a multimedia campaign advocating the tax measure's defeat and declaring the group's intentions to hold a book burning party.  Citizens of Troy were outraged, and the public discourse quickly shifted from antitax to proliteracy.  The measure passed, and the library was saved.