Published on Wed, 2016-07-06 19:05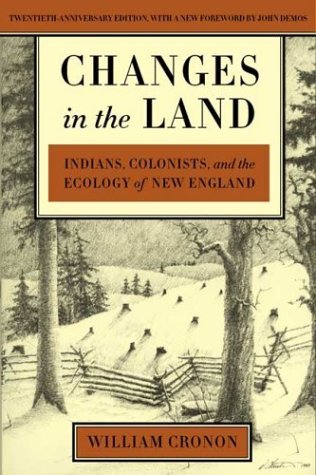 Changes in the Land: Indians, Colonists, and the Ecology of New England
William Cronon
pub. 2003, 257p (170 of text, plus notes)
source: LAPL
Referenced by one of the presenters at the Ecomusicology Conference I attended, Changes in the Land explains the dramatic environmental changes that resulted from America's 17th-century colonists.  Going deeper than the standard story -- Europeans stole Indians' land -- Cronon shows how the belief systems underlying the communities vying for New England played out in nature.
Northern Indians were largely hunting-gathering, southern Indians were largely agrarian, and tribes from both communities thought of nature and ownership rights to it in relation to use.  One tribe would have de facto rights to the deer it needed to sustain itself through a specific season, and this hunting area might overlap with the agricultural fields of another tribe.  European colonists, however, generally thought of ownership in specific land parcels, where rights were total and perfectly divided between neighbors.  Spurred by the profits available in exporting wood, skins, and other natural materials to their home countries, the colonists divided up the land and exploited it completely.  With such extensive resources, colonists didn't bother to properly steward the land.  When a field was unusable, a neighboring one was simply de-forested, planted, and grazed until ruined.  Sadly, the Indians participated in the destruction.  Faced with the impossibility of maintaining their previous free-roaming culture, and greatly diminshed by the diseases brought with the colonists, the Indians put their great hunting skills to use selling beaver skins to the colonists, to the great detriment of the beavers.
It is a shame our country is founded on such waste and heartbreak.  I read the book as I am working on an apartment remodel and it was the perfect topic to make me question my way of life, my connection to this land, and my role in the community.  I hope I continue to question our concepts of property rights and do a better job stewarding my small plot of nature.