Published on Sat, 2012-09-01 17:40
[Originally posted at OnEnsemble.org as "Recent book reviews — August 2012"]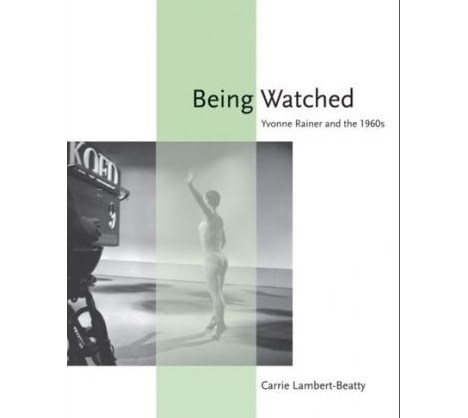 Being Watched: Yvonne Rainer and the 1960s
Carrie Lambert-Beatty
pub. 2008, 362p
source: LAPL
This is a dense book, full of though-provoking insight on the work of Yvonne Rainer.
In Phelan's view, the equation across our cultural spectrum of that which is seen and that which is real has negative consequences: being seen, or entering into representation, means being an object for the gaze, being other, and being subject to phallocentric power; it means reproduction, the generation of sameness, and control by surveillance.
He deemed Moore the pioneer of this photographic mode (photo-documentation), devoted to "capturing as much of the total visual experience of an actual performance as possible and getting it from the point of view of the audience." What was to be documented was less the work as a thing in itself than the experience of viewing it.
"What is seen" in Trio A is a factual quality that is the essence of Rainer's 1960s dance theory — the source of what she called "tasklike dance." Later she corrected an interviewer who thought the concept of task provided a way for her to organize movement. "No," she said, "it was an attitude about performance." Rainer was interested in dance that is like a task in its very quality of movement. And this ideal meant an equation between the dancer's apparent expenditure of energy and the actual requirements of the motion being performed — between the moving body seen and lived. In this equation, the "unenhanced physicality" that Rainer loved about the body finds its performance manifestation; each perceived motion directly expresses the action of the body itself.
"How to use the performer as a medium rather than a persona? Is a 'ballet mechanique' the only solution?" As a choreographer, Yvonne Rainer was interested in the objective nature of the human body — its status as a physical thing. … Witness her desire to get "away from the personal psychological confrontation with the performer"; her concern to "weight the quality of the human body toward that of objects and away from the super-stylization of the dancer"; the recurrence, in her famous dance Trio A, of moments in which "one part of the body becomes an object for another part of the body to lift"…
Within a context of live performance tied to this mass medium, moreover, it becomes impossible to ignore the fact that with her use of performance concurrence — which is to say, in her resistance to the binary opposition between "captive" spectator and putatively liberated viewer-participant — Rainer created an audience whose freedom was the freedom to choose what to watch. And that is to say that she was working with, perhaps working through, precisely the experience to which the conjunction of consumerism and spectatorship reduces so much of mass-mediated living.
"I accept and require the 'audience-performer gulf'. I do not wish the audience to participate in my thing; neither do I wish them to focus on themselves, but rather on arbitrary and carefully focused situations external to themselves within clearly delineated social areas. If I make them mobile it is only to avoid their being 'captive,' not to narrow the separation — either physical or psychic — between audience and performer."
"Dance is ipso facto about me (the so-called kinesthetic response of the spectator notwithstanding, it only rarely transcends that narcissistic-voyeuristic duality of doer and looker); whereas the area of the emotions must necessarily directly concern both of us. This is what allowed me permission to start manipulating what at first seemed like blatantly personal and private material. But the more I get into it, the more I see how such things as rage, terror, desire, conflict, et al., are not unique to my experience the way my body and its functioning are. I now — as a consequence — feel much more connection to my audience, and that gives me great comfort."