Published on Sat, 2013-04-13 09:00
[Originally posted at OnEnsemble.org as "Recent book reviews – April 2013"]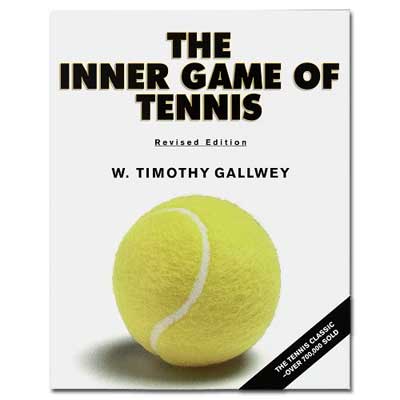 The Inner Game of Tennis
W. Timothy Gallwey
pub. 1977, 122p
source: LAPL
I am so glad a friend turned me on to this book! Apparently a classic in sports pedagogy, The Inner Game of Tennis describes the mind/body division that complicates adult skill-building. The judgemental mind interferes with the natural abilities of the unconscious body and impedes a sensation-based understanding of motion. Although the topic is tennis, the concepts are immediately applicable to any physical challenge and I found myself revising much of my taiko teaching philosophy. I'm excited to try and better utilize my students' image-based learning facilities! Wow, thank you for this recommendation, Eien!
"That's good, but you're rolling your racket face over a little on your follow-through," … Before long, Mr. Weil's mind is churning with six thoughts about what he should be doing and sixteen thoughts about what he shouldn't be doing. Improvement seems dubious and very complex, but both he and the pro are impressed by the careful analysis of each stroke and the fee is gladly paid upon receipt of the advice to "practice all this, and eventually you'll see a big improvement."
Hadn't he said that five pros had told him his racket was too high? … Despite all those lessons, he had never directly experienced his racket going back high. His mind had been so absorbed in the process of judgment and trying to change this "bad" stroke that he had never perceived the stroke itself.
Knowing where [your racket] should be isn't feeling where it is. Knowing what your racket didn't do isn't feeling where it is. Feeling where it is is knowing where it is.
The first inner skill to be developed in the Inner Game is that of nonjudgmental awareness.
"How can I just 'let a forehand happen' if I've never learned how to hit one in the first place? … The answer is: if your body knows how to hit a forehand, then just let it happen; if it doesn't, then let it learn.
… the native tongue of [the non-conscious self,] Self 2 is imagery: sensory images. Movements are learned through visual and feeling images.
Asking for Results … Asking for Form … Asking for Qualities
[Asking for Form] Suppose, for example, that you are consistently rolling your racket over on the follow-through, and the habit continues despite all efforts to change it. First you must give Self 2 a very clear image of what you are asking it to do. This can best be done by holding your racket in front of you in a proper follow-through position and looking at it with undivided attention for several seconds. You may feel foolish, thinking that you already know the proper follow-through, but it is vital to give Self 2 an image to imitate. Having done this, it might also be useful to shut your eyes and imagine as clearly as possible your entire forehand with the racket staying flat throughout the swing. Then, before hitting any balls, swing your racket several times, letting the racket stay flat and allowing yourself to experience how it feels to swing in this new way. Once you start to hit balls, it is important not to try and keep your racket flat. You have asked Self 2 to keep it flat, so let it happen! Self 1's only role is to be still and observe the results in a detached manner.
Letting go of judgments, the art of creating images and "letting it happen" are three of the basic skills involved in the Inner Game.
The more awareness one can bring to bear on any action, the more feedback one gets from experience, and the more naturally one learns the technique that feels best and works best for any given player at any given state of development.
What I like about this approach is that I do not have the feeling that I am fitting myself or the students into an external model that may be in fashion for the moment, but that I am using any external model to further help me take a step in the natural evolution toward my very best strokes.
It is much more difficult to break a habit when there is no adequate replacement for it.
The Usual Way of Learning
Step 1 – Criticize or Judge Past Behavior …
Step 2 – Tell Yourself to Change, Instructing with Word Commands Repeatedly …
Step 3 – Try Hard; Make Yourself Do It Right …
Step 4 – Critical Judgment About Results …

The Inner Game Way of Learning
Step 1 – Observe Existing Behavior Nonjudgmentally …
Step 2 – Picture Desired Outcome …
Step 3 – Let It Happen! Trust Self 2 …
Step 4 – Nonjudgmental, Calm Observation of the Results Leading to Continuing Observation and Learning …