Published on Sun, 2010-10-24 15:12
[Originally posted at OnEnsemble.org as "Recent book reviews – December 2010"]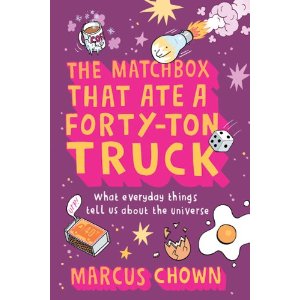 The Matchbox That Ate A Fourty-Ton Truck – What everyday things tell us about the universe
Marcus Chown
pub. 2010, 269p
source: LAPL
A fun overview of current cosmological theory, The Matchbox That Ate A Fourty-Ton Truck uses everyday observations as a starting point to explain the fundamental structure of the universe. The black, night sky, for example, tells us that stars don't last long enough to fill the sky with visible light, and the microwave radiation that does fill the night sky tells us "that the universe has not existed forever, that it was born in a Big Bang, that there was a beginning to time." This structure was compelling, but perhaps not as compelling as the standard, historical, order of events. When explaining hard concepts, I think it's hard to find an organizational structure better than simply guiding the reader through the steps humans took to arrive at that conclusion. In 1800, person X thought this… until person Y asked this hard question… and then person Z made this discovery… so now we think this…
Chown does a decent job explaining the complex subject matter in layman's terms, but the simplification sometimes burdens the language. "Though the main constituents of the nucleus have not been mentioned here yet because they have not had a direct bearing on any discussions, it is no secret that they are the 'proton' and the 'neutron'." That's a lot of extra words, when it's fine to just use 'proton' and 'neutron'. At other times, the topic is simply too complex for non-technical explanation.
An easy way to visualise the height of the quantum wave is as an arrow pointing in a particular direction in space, just like the hand of a clock. The arrow has an 'amplitude' – simply its length. And it also has a 'phase'. This is defined with respect to some reference direction, such as twelve o'clock.
Is the clock analogy really helpful here? I would have preferred simply taking a step back and learning about vectors (or whatever else is underlying the analogy).
All in all though, I definitely appreciate Chown's attempt to tackle the big questions in everyday terms. The Matchbox That Ate A Fourty-Ton Truck is a fun read and a great overview of the current thinking on cosmology. I especially liked the refresher on the constituents of atoms, as seen in the choice quotes below.
The variety of the world is therefore telling us that there cannot be just one kind of atomic building block — there must be many. … The reason must have something to do with what makes one kind of atom different from another. And what makes atoms different is the number of electrons they contain. It is those electrons, orbiting far from the central nucleus, that are the atom's interface with other atoms.
As far as we know, every one of the trillions upon trillions of electrons in the universe is absolutely identical. It has no scratches on it, no scars, no blemishes, nothing whatsoever to distinguish it from any other member of the tribe of electrons. And this indistinguishability is truly something new under the sun.
However, more likely than not (Fermi) realized that the most efficient way to explore the galaxy would be by means of self-reproducing space probes. Such a probe, on arrival at a destination planetary system, would set about constructing two copies of itself from the raw materials found there. The two daughter probes would then fly off and, at the next planetary system, build two more copies. In this way, the probes would infect the galaxy relatively rapidly, like bacteria spreading throughout a host. Using plausible estimates for the speed of such probes and the time required to make copies, it was possible to estimate how long it would take to visit every star in the Milky Way. And the answer was surprisingly modest: between a few million and a few tens of millions of years. Since this was a mere fraction of the 10-billion-year lifespan of our galaxy, one conclusion was unavoidable: if a star-faring race had arisen at any time in the history of our galaxy, its space probes should be here on Earth today. So, in Fermi's immortal words, 'Where is everybody?'
(Fermi) 'Before I came here I was confused about this subject. Having listened to your lecture I am still confused. But on a higher level.'