Published on Mon, 2012-12-31 10:34
[Originally posted at OnEnsemble.org as "Recent book reviews — December 2012"]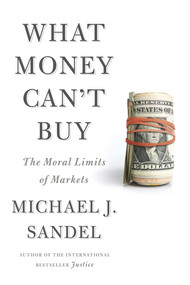 What Money Can't Buy — The Moral Limits of Markets
Michael J. Sandel
pub. 2012, 244p
source: LAPL
What Money Can't Buy explains the increase of market forces in civic life and the need for public discourse at each potential intrusion. Through thought-experiments and numerous real-life examples, Sandel makes a strong case that markets are not "neutral", but effect the things they commodify and our relationships to those things. When schools open their textbooks to advertising and baseball stadiums install skybox seating for the wealthy, these incursions of the market into new areas diminishes their civic and cultural value. Whether the improved efficiency of for-pay, high-speed freeway lanes, or the revenue generated by selling the naming rights of a public park, outweigh the erosion of shared values, is a question we must address as individuals and citizens. This is a discourse we have largely side-stepped and conceded to "market-triumphalists".
Commercialism does not destroy everything it touches. A fire hydrant with a KFC logo still delivers water to douse the flames…

Nevertheless, imprinting things with corporate logos changes their meaning. Markets leave their mark. Product placement spoils the integrity of books and corrupts the relationship of author and reader. Tattooed body ads objectify and demean the people paid to wear them. …

These are, I admit, contestable judgements. People disagree about the meaning of books, bodies, and schools, and how they should be valued… But… once we see that markets and commerce change the character of the goods they touch, we have to ask where markets belong — and where they don't. …

In addition to debating the meaning of this or that good, we also need to ask a bigger question, about the kind of society in which we wish to live. As naming rights and municipal marketing appropriate the common world, they diminish its public character. Beyond the damage it does to particular goods, commercialism erodes commonality. The more things money can buy, the fewer the occasions when people from different walks of life encounter one another. We see this when we go to a baseball game and gaze up and the skyboxes, or down from them, as the case may be. The disappearance of the class-mixing experience once found at the ballpark represents a loss not only for those looking up but also for those looking down.

Something similar has been happening throughout our society. At a time of rising inequality, the marketization of everything means that people of affluence and people of modest means lead increasingly separate lives. …

Do we want a society where everything is up for sale? Or are there certain moral and civic goods that markets do not honor and money can't buy?