Published on Mon, 2017-01-23 07:36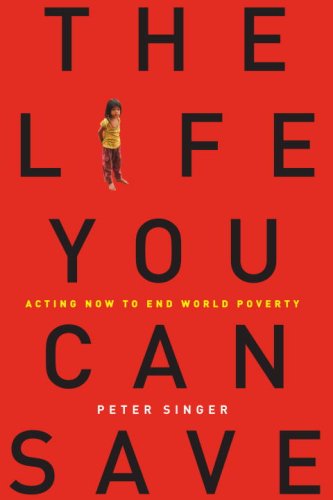 The Life You Can Save: Effective giving against extreme poverty
Peter Singer
pub. 2009, 206p
source: LAPL
This book is exactly what I was hoping for; a thoughtful reflection on our charitable responsibities and well-researched info on where to direct our contributions.
For the first time since childhood, I find myself living in a beautiful home.  A recently-completed renovation has completely transformed Hiro and my apartment.  We now have fancy appliances and cabinets made from beautiful wood.  In undertaking the remodel, our hope is that we can buy nice things once, and make them last for the rest of our lives.  We hope to build a space that enables us to live efficient, careful lives and lessen our impact on the environment.
These are all good things, but I can't help feeling it's a bit selfish.  The gap between me and the homeless feels even more stark reflected in a new, no-fog shower mirror.  So, concurrent with this graduation into luxury, I hope to increase my ability to help the poor.  The Life You Can Save is exactly what I needed for ideas on how to do that.
Singer is a bioethics professor at Princeton University and writes in the field of "applied ethics".  In The Life You Can Save he tackles the ethical question of how much we should be giving, and to whom.  This NYTimes review is excellent, but to summarize their summary: 1) We Americans are not doing enough to help the world's poor.  2) Many aid organizations do great work.  3) Start with 1%.
Inspired by the book, I've begun contributing $20 monthly to Oxfam (roughly 1% of what I make), and my hope is to increase this annually to a more substantial percentage.  My goal is to include charitable giving in my purchase decisions, so that I might find expenses I can eliminate and direct that money to Oxfam.  It feels great to have begun the process and The Life You Can Save was instrumental!
notes
possible standards for giving
1% - thelifeyoucansave.org suggested starting point
give until significant risk of worsening own life; Richard Miller
give until infringement on our own "intrinsically life enhancing goods"; Garrett Cullity
give according to a code that if all followed, would bring best outcome; Brad Hooker
5% - reasonable base-line in The Life You Can Save
25% - Singer's own current rate
50% - 50% League
give until giving more would sacrifice something nearly as important as a child's life; Peter Singer