Published on Sat, 2011-09-17 08:06
[Originally posted at OnEnsemble.org as "Recent book reviews — September 2011"]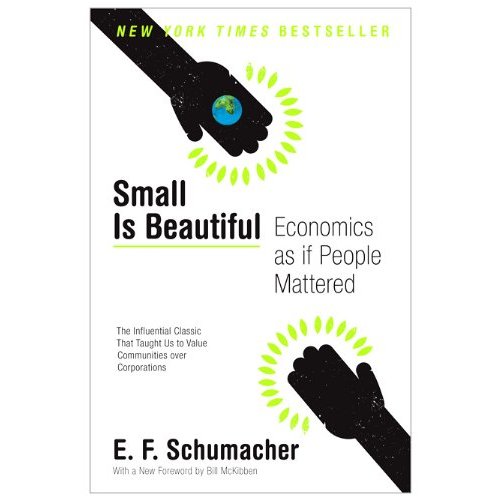 Small Is Beautiful — Economics as if People Mattered
E. F. Schumacher
pub. 2010, 324p
source: LAPL
Small Is Beautiful is apparently a classic in alternative economics but this was my first foray into Schumacher's writing. The book is challenging and thought-provoking and has deepened my belief that growth should not and cannot be our economy's foundation. Although Schumacher's attack on the vaulted status of economics is rooted in a Christian ethic which I don't share, I strongly agree with most of the essential concepts of Small Is Beautiful; we have assigned economic-value the main measure of our endeavors and we must live more sustainably. Increased technology is not the whole answer; we need to slow down and change our priorities and the measure of our successes. In some cases I got the sense that Schumacher is over-reaching in his criticisms of science — for me, the logical, un-supernatural world-view is in alignment with conservation and simplicity — but I might just be over-protective of science.
How would we even begin to disarm greed and envy? Perhaps by being much less greedy and envious ourselves; perhaps by resisting the temptation of letting our luxuries become needs; and perhaps by even scrutinising our needs to see if they cannot be simplified and reduced. If we do not have the strength to do any of this, could we perhaps stop applauding the type of economic "progress" which palpably lacks the basis of permanence and give what modest support we can to those who, unafraid of being denounced as cranks, work for non-violence: as conservationists, ecologists, protectors of wildlife, promoters of organic agriculture, distributists, cottage producers, and so forth? An ounce of practice is generally worth more than a ton of theory.
In a sense, the market is the institutionalisation of individualism and non-responsibility. Neither buyer or seller is responsible for anything but himself.
To press non-economic values into the framework of the economic calculus, economists use the method of cost/benefit analysis. … All it can do is lead to self-deception or the deception of others; for to undertake to measure the immeasurable is absurd and constitutes but an elaborate method of moving from preconceived notions to foregone conclusions… The logical absurdity, however, is not the greatest fault of the undertaking: what is worse, and destructive of civilisation, is the pretense that everything has a price or, in other words, that money is the highest of all values.
… growth of GNP must be a good thing, irrespective of what has grown and who, if anyone, has benefited.
… let us take some fundamentals and see what they look like when viewed by a modern economist and a Buddhist economist. … Hence the idea from the point of view of the employer is to have output without employees, and the ideal from the point of view of the employee is to have income without employment. … The Buddhist point of view takes the function of work to be at least threefold: to give a man a chance to utilise and develop his faculties; to enable him to overcome his ego-centredness…, and to bring forth the goods and services needed for a becoming existence. … to strive for leisure as an alternative to work would be considered a complete misunderstanding of one of the basic truths of human existence, namely that work and leisure are complementary parts of the same living process and cannot be separated without destroying the joy of work and the bliss of leisure.
A new "dimension" is given also by the fact that while man can now — and does — create radioactive elements, there is nothing he can do to reduce their radioactivity once he has created them. No chemical reaction, no physical interference, only the passage of time reduces the intensity of radiation once it has been set going. … No degree of prosperity could justify the accumulation of large amounts of highly toxic substances which nobody knows how to make "safe" and which remain an incalculable danger to the whole of creation for historical or even geological ages.
The amount of real leisure a society enjoys tends to be in inverse proportion to the amount of labour-saving machinery it employs.
… Leo Tolstoy… wrote, "I sit on a man's back, choking him, and making him carry me, and yet assure myself and others that I am very sorry for him and wish to ease his lot by any means possible, except getting off his back."
We shrink back from the truth if we believe that the destructive forces of the modern world can be "brought under control" simply by mobilising more resources — of wealth, education, and research — to fight pollution, to preserve wildlife, to discover new sources of energy, and to arrive at more effective agreements on peaceful coexistence. Needless to say, wealth, education, research, and many other things are needed for any civilisation, but what is most needed today is a revision of the ends which these means are meant to serve. And this implies, above all else, the development of a life-style which accords to material things their proper, legitimate place, which is secondary and not primary.