Published on Mon, 2011-05-09 13:13
[Originally posted at OnEnsemble.org as "Recent book reviews – May 2011"]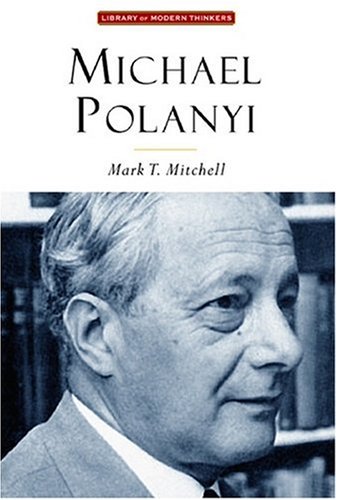 Michael Polanyi
Mark T. Mitchell
pub. 2006, 195p
source: LAPL
Michael Polanyi was a concise and useful introduction to Polanyi's theories. Polanyi was a scientist-turned-philosopher and a complicated man and thinker and Mitchell's book provides an overview that is well organized and readable. Unfortunately I wasn't particularly inspired by the writing, or given a sense of the importance of Polanyi in modern thought. I found myself resisting a temptation to reject Polanyi's theories on morality and tradition as outdated, and some of the arguments felt semantic. Assuming I am understanding them correctly, I was not persuaded by Polanyi's justifications for "faith" and "belief". I'm interested in reading Polanyi's texts directly to see if I feel the same.
I did get the sense, however, that under the philosophy jargon I would find in Polanyi a man worth emulating. For all his sharp introspection, he sounds like a kind and open-minded individual.
The coordination of order that ensues is not commanded from the top, but is what Polanyi calls a "spontaneous order". Polanyi argues that, wherever complexity exists, the same principle will apply. "It applies even to a sack of potatoes. Consider how ingeniously the knobs of each potato fit into the hollows of a neighbor. Weeks of careful planning by a team of engineers equipped with a complete set of cross-sections for each potato would not reduce the total volume… so effectively as a good shaking and a few kicks will do."
"The ever-unquenching hunger and thirst after righteousness which our civilization carries in its blood as a heritage of Christianity does not allow us to settle down in the Stoic manner of antiquity."
… whereas moral perfectionism within a Christian context is moderated by the doctrine of original sin and the deferral of perfection to the end of history, the perfectionism of a post-Christian world provides no such moderating counterbalances. The passionate perfectionism of Christianity remains despite a rejection of the doctrines that formerly prevented it from wreaking havoc on the society committed to its ideal.
When a child learns a language, he believes (trusts) that the language-speakers who surround him are not uttering gibberish. Likewise, all skills require submission to a master because the novice does not yet comprehend what he is practicing.
If Polanyi's account of knowing is accurate, the ideal of objective detachment is untenable, for the active participation of the knower is indispensable. Furthermore, if all knowing comes about in this triadic fashion, which necessarily includes elements that are unspecifiable, then we can agree with Polanyi that all knowledge is either tacit or rooted in tacit knowledge. The ideal of a purely explicit knowledge — the cherished goal of objectivism — is ultimately rendered impossible.