Published on Sat, 2014-06-21 07:00
[Originally posted at OnEnsemble.org as "Recent book reviews – June 2014"]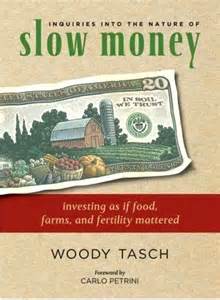 Inquiries into the Nature of Slow Money
Woody Tasch
pub. 2008, 200p
source: LAPL
Despite my affinity for this book's premise — the necessity adjusting our concept of capitalism to better value nature — I didn't much enjoy the read. When my lending period ran out and I returned the book, I was only about two-thirds of the way through it. While there is useful and thought-provoking information scattered throughout, most of the book feels like a long series of emotional one-liners. To start with the good:
In 2007, total grant making by U.S. foundations was approximately $40 billion. Only about $1 billion went to environmental causes, the rest going mostly to churches, schools, hospitals, poverty programs, disaster relief, and the arts. $50 million or so went to organics and sustainable agriculture. … Meanwhile, the "corpus", is it is called, that is, the $550 billion of investment assets the returns on which fund grant budgets, is invested with virtually no concern for either general issues relating to global economic growth or specific issues relating to a particular foundation's mission.
We are not trying to reign in or correct or punish capitalism. We are trying to complete it.
Capitalism remained incomplete because resources seemed inexhaustible and consumption seemed to cause no harm. Now, as we reach a new juncture in our history on the planet, this is no longer the case.
However, these gems are surrounded by vague analogies and appeals to emotion that I found less compelling.
We will need to head, impelled by sudden and irrepressible insight, toward beauty and nonviolence.
…
There is something beautiful about organic garlic grown in Dixon and sold in Santa Fe. There is something beautiful about Davis Farm eggs at the Guerilla Cafe. There is something beautiful about Bayley Hazen Blue Cheese from Jasper Hill Farm. There is something beautiful in the manure between the rows of Fascianella almond trees near Noto. There is something beautiful …

There is nothing beautiful about bovine growth hormone or high-fructose corn syrup or Red Dye #4 or the parking lot of a McDonald's.
Exasperated by the painfully long list of "beautiful" examples and arriving at the list of non-beautiful ones, I find myself feeling defensive. Would antibiotics be "not beautiful?" What does a skateboarder think of the McDonald's parking lot, and isn't it beautiful that a kid and a skateboard and creativity can turn a dreadful space into one of health and exploration? Much of the book feels similarly over-simplified and over-stated. I am all for the concept of "slow money", but can't recommend the book.