Published on Thu, 2017-01-12 22:05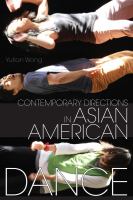 Contemporary Directions in Asian American Dance
Yutian Wong ed.
pub. 2016, 269p
source: LAPL
Although I lacked the cultural-studies vocabulary necessary to follow all of the academic articles, I thoroughly enjoyed this parts I understood.  As a choreographer (rather than a critic), I would have enjoyed more discussion from the artists' and dancers' perspectives, but all the same, Contemporary Directions still proved thought-provoking and worth the read.
p37  [Christopher] Small writes, "For performance does not exist in order to present musical works, but rather, musical works exist in order to give performers something to perform."
p147  Asian American dance is often promoted and funded in much the same manner as World Dance. ... It is not unusual for World or "ethnic" dance concerts to group dance companies based on geographic regions rather than thematic content such that geography doubles as theme.  Programming an evening of Asian dance regardless of genre often suffices as acceptable curitorial decision making.
p148  Shen and Lin exemplify this supposed harmony through what Yutian Wong calls the trope of the nonwhite "international artist," who is at once exotic and familiar, visibly different and socially legible. ... this trope "is often used to gloss the political exigency of racial, ethnic, gender, and class difference suggested by the term artist-of-color."
p151  In 1955 Martha Graham and her company toured Asian on a U.S. State Department tour.  Ananya Chatterjea contends, however, that references to these influences can reproduce the modern West / traditional East binary by suggesting that postmodern dance recycled static traditions from Asian cultures to create innovation.
p152  The term "Asian American" originated during the late 1960s on the heels of the black civil rights movement to express a shared experience of systemic and historically rooted racism: "Asian to emphasize race, American to emphasize non-foreignness." 
p154  What is at stake when Asian American choreographers are "grappling with form, content, and process as markers of identity" through white bodies?
p165  ... the beginning of the interpretation of dance occurs with the framing by the promotional materials that first announce the event.
p208  In autobiographical performance, choreographers "write" themselves with movement and various additional media -- while recognizably located by physical indicators of identity, these bodies manage to disrupt those identities.  Autobiographical performance asks audiences to consider dancers' bodies as vehicles for more than basic cultural identity.