Published on Wed, 2013-07-10 16:19
[Originally posted at OnEnsemble.org as "Recent book reviews – November 2013"]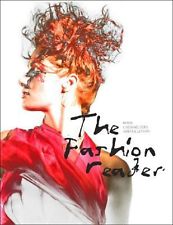 The Fashion Reader
Linda Welters and Abby Lillethun
pub. 2007, 456p
source: LAPL
(Note: I only completed the first 300 or so pages of this textbook before having to return it.)
The Fashion Reader is an interesting mix of articles on fashion, organized into loose categories including, "Fashion Theory" and "Fashion and Identity". The quality of the writing is also mixed, but I found every article thought-provoking and interesting. One answer I did not find was whether my approach to my clothing constitutes "anti-fashion" or simply an individual fashion. I was somewhat surprised how many articles are critical of fashion and come away from the reading with a stronger conviction of my beliefs. My search for convincing rebuttals to my criticisms of fashion continues. The quotes below give a sense of the wide-ranging topics.
… the term "sans-culottes," which described manual laborers and the urban poor, who generally wore utilitarian long trousers rather than the knee-length breeches (culottes) favored by aristocrats and the bourgeoisie…
Pantaloons, a compromise between aristocratic breeches and working-class trousers… were close fitting garments of mid-calf length, often made of knitted silk or cotton.
Fashion is a collective phenomenon and has an objective existence apart from any individual. … In the mass, most [people] are "average", and taste becomes what fashion is all about. Taste implies a purely subjective judgment with which there is no arguing, but aesthetic judgment requires a certain consistency with aesthetic principles as well as an evaluation of the functional relevance of an object.
When the first few fashion leaders adopt a new style, they identify themselves as members of an elite apart from the rest of the world. … In the end no one can afford to be different. The final blow comes when the woman standing aside appears ridiculous even to herself. "They" are no longer odd; she herself is. … But in the meantime the fashion innovators may already be striking out in new directions.
He describes how the jeans feel on his body, how they pinch and restrict his movement, how they make him aware of the lower half of his body… 'As a result, I lived in the knowledge that I had jeans on, whereas normally we live forgetting that we're wearing undershorts or trousers. … I assumed a demeanor… Not only did the garment impose a demeanor on me; by focusing my attention on demeanor it obligated me to live towards the exterior world.'
Learning to keep our clothes on while in public is something parents have to enforce upon unruly young children… as they approach school age, parents may become anxious to ensure that children learn shame and do not risk ridicule in public by stripping… Obvious though this seems, it is a taken-for-granted aspect of social life that illustrates the centrality of dress to our experiences of embodiment and to the moral order of the social world.
These two bodies were very much defined in terms of a sharp distinction between tailored or structured dress worn to work and untailored or unstructured dress at home. The dressed body at work, described by my respondents, was a public body, dressed for the formal conditions of the professional workplace. This formal body was more tightly constrained in terms of its visual appearance, its contours firmly demarcated by tailored clothing, especially by the tailored jacket which marks a clear boundary around the body in much the same way as a man's suit jacket does.
… institutions such as prisons and hospitals impose uniforms which erase the individual features of the wearers' bodies and produce a uniform image of the institution or corporation.
… fashion has been defined a priori as a Western phenomenon, and that, in this way, fashion has been a function of "the enormously systematic discipline by which European culture was able to manage — and even produce — the Orient…" Who has, and who does not have fashion is politically determined, a function of power relations. To paraphrase Said, what was "discovered" to be without fashion was what could be made to be without fashion.
Role theory suggests that since people may have multiple roles they fulfill, they may have a variety of identities, constructed, in part, through appearance.
… white cotton was used because it was easily washed and could be bleached without fading.
When a boy assumed that most exclusive element of male dress, trousers, society viewed him as symbolically beginning the process of becoming a man.
… boys went from wearing dresses to knicker suits at around age three, but wore knickers for a longer time, to about age twelve.
Boys' attire grew progressively less "feminine" during the twentieth century, and in the 1990s, boys wear items associated with females only under special circumstances, such as a lace-trimmed heirloom christening dress worn at baptism. Conversely, female clothing became more "masculine," with those formerly male-only — trousers — gradually accepted for women and girls in nearly every social situation.
… a peculiarly American "shame of being thought poor" fueled the American pursuit of fashion…
The overwhelming direction in the borrowing of gender symbols is from the men's to women's dress.
It is possible that someday women and men will be valued equally, for all their differences. The clothes we wear today do not indicate that this will happen soon.
Some senior women began wearing adaptations of masculine conventions ("power dressing") to claim equal status, while others adopted elite designer fashions of the West End or Fifth Avenue to differentiate themselves from women in subordinate secretarial jobs.
[Gerald] Levin is the CEO who sent chills through haberdashery, in January 2000, when he wore khaki trousers and an open-necked shirt to the press conference announcing the merger of his company, Time Warner, with AOL.
Trousers, too, were probably first pulled on for horseback riding.
Like Clark Kent's boxy double-breasted suit, which had to be removed, in a phone booth or behind a tree, for Kent to function as Superman, ours have become more a transitory disguise than the clothes in which we actually do our work.
But ceremony is a dressy place. Ceremony celebrates rank and order in public. A traditional hallmark of ceremony is the unrelaxed situation of the principals.
These two views are mutually inconsistent, although no debate within feminism has fully brought this out. … "on the one hand, those committed to "cultures of identity" and the achievement of true self and expression. On the other hand, those who act on the basis that human interaction depends on dissimulation, who insist on the central value of the city, its unpredictability, the fluidity of its codes and the subversive play with them." The division between the "authentic" and the "modernist"…
Later nineteenth-century feminism was marked by this Fabian spirit, which posed use against beauty; the same utilitarianism marks it today. The logic of this view is ultimately that the only justification for clothing is function — utility.