Published on Fri, 2014-09-19 10:11
[Originally posted at OnEnsemble.org as "Recent book reviews – October 2014"]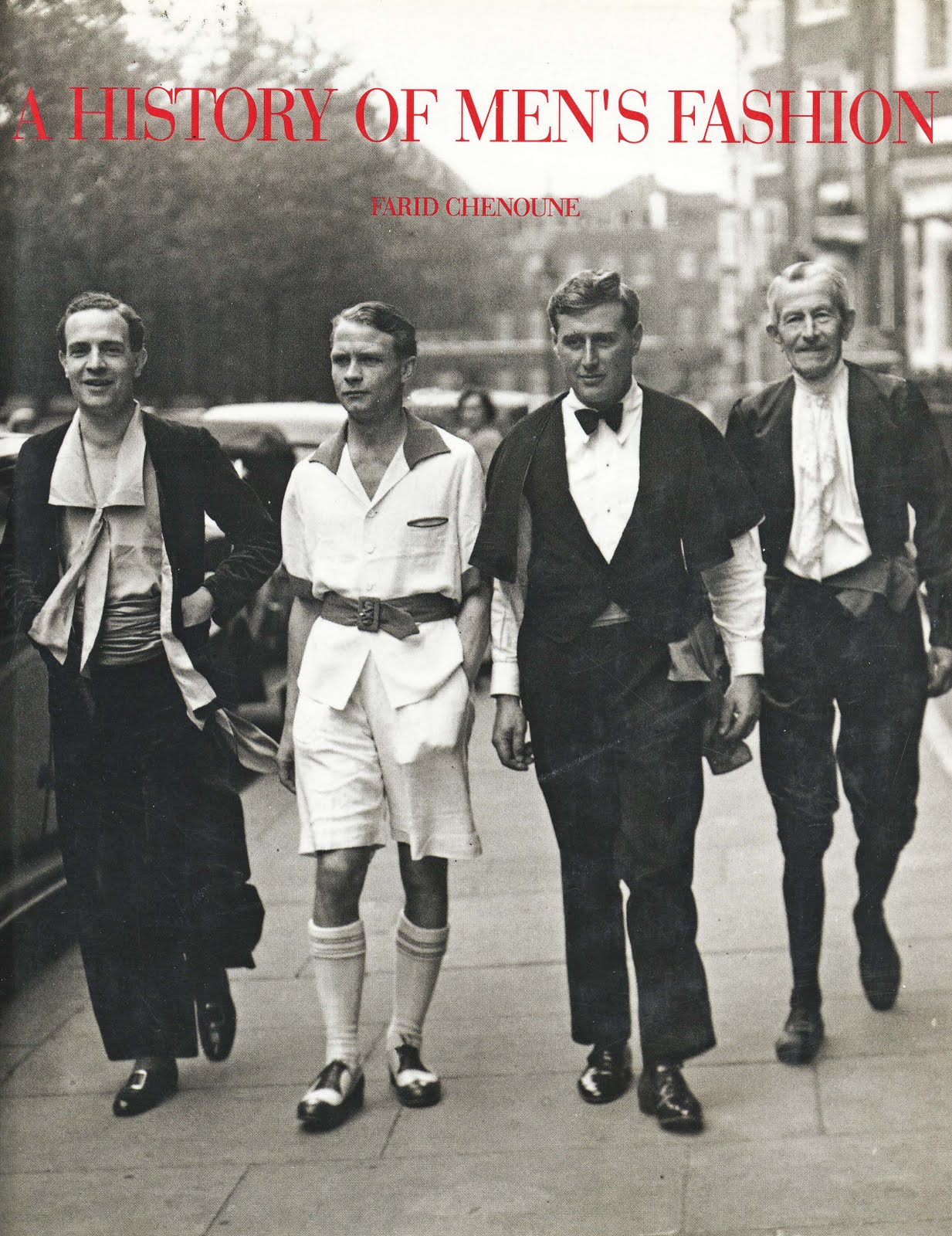 A History of Men's Fashion
Farid Chenoune
pub. 1993, 336p
source: LAPL
Aha! A well-written tome on fashion. Chenoune's smart prose is butressed by a remarkable depth of knowledge about all things fashion and its historical context. This was the best book I've yet read on the subject. The focus on men's fashion and the breadth of the time period (1760-1993) was the perfect combination for me. My enjoyment of the book, however, did not lead to revision of my current approach to clothing. None of the philosophies touched on in the book felt more honest or more "me" than what I currently wear.
As evidenced by the volume of quotes below, I found much I like in A History of Men's Fashion, and many new ways to describe and contextualize my approach to fashion.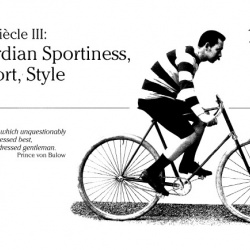 Men and women want to dress differently — except perhaps in the rare instances of berdache ambiguity and unisex utopianism. Gender distinctions are nonetheless indivisibly connected in the human destiny.
… the prosperity of English agriculture provided French physiocrats and free-thinkers with food for thought; it proved that British aristocrats were able to produce wealth since, as major landowners, they sought to enhance the value of their property in the fine tradition of "country gentlemen." Added to that was a puritan work ethic which considered neither labor nor business to be disgraceful, as was the case among France's Catholic nobility. British landowners lived on their land, far from the court, whereas French nobles lived at court, far from their land. That is why the former, rather than the latter, began borrowing garments adapted to their outdoor occupations from the lower classes.
… a slow revolution in dress that occurred between 1750 and 1815; the rise of more informal dress signaled transformation in the codes of elegance. Within this revolution in masculine etiquette, Anglomania simultaneously represented an experimental laboratory, a social testing-ground, and an ideological crucible.
Black clothing dominated the nineteenth century, accompanied by a masculine ideal based on reserve, austerity, and gravity.
The winds of freedom blowing from America in 1776 had already turned simple, sober, wigless dress into "fashion a la Franklin." Sometime around 1780 in England, the radical whig Charles James Fox (1749-1806), formerly a foppish "macaroni", surprised London with his grimy dishevelment, bare chest, unruly hair and questionable beard. This calculated casualness… was designed to break down class barriers and promote egalitarian ideas.
Sans-culottes were tradesmen who … eschewed culottes (breeches and stockings) as a symbol of the inequality of the ancien regime, adopting instead the trousers worn by workers…
Pants — in the form of pantaloons or trousers (which were more casual and, though occasionally tight-fitting, never clung to the calves like pantaloons) — definitively ousted breeches during the Restoration and the 1820s.
In 1842, French military authorities decided to replace the front flap on regulation trousers with a modern fly. … this decree signaled their inexorable decline.
… "horse collars" that circled their necks.
… the paletot or overcoat was basically synonymous with a sack-like, waistless garment suitable for all. This democratic feature in fact made it a symbol of the uniformization of male dress demoaned by artists and tailors. It became identified with "hives of bureaucrats" who filed papers all day long behind dusty desks…
The invasion of ready-made clothing, with the overcoat as its banner, meant a steady decline in regional dress.
This respect for the occasion, for always being properly dressed in both private and public spheres, was the key to the perfect expression of an accomplished gentleman's main sartorial virtue — dressing with discretion.
… "the golden rule that a gentleman never discusses such matters. They should come naturally, effortlessly, without too much thought, like a somewhat annoying duty to which one is obliged to devote a little time ('After all, you have to dress yourself') but that a refined mind would never take to seriously."
… the history of women's fashion has always been punctuated by the temporary borrowing of masculine details. … This trend would accelerate in the twentieth century, particularly with the adoption of pants.
"The absurd fashion for tight clothes now in vogue has reached the point where you no longer know where to put your wallet and handkerchief," … 1879.
The aristocracy remained the uncontested arbiter of elegance throughout the nineteenth century…
Black evening dress reigned supreme for nearly half a century. It was regularly criticized for its funeral air, yet just as regularly praised for providing an elegant setting for the luxuriantly colored dress of the fairer sex, a gallant male homage to feminine beauty.
As an emblem of a new urbanity, the dinner jacket basically represented the final rupture with waisted garments making a last-ditch stand as formal evening wear. It thereby became yet another symbol of the modern wardrobe made necessary by an "active lifestyle." Even tailors admitted by 1900 that men were in need of "a wardrobe suitable for all requirements and all occasions."
"Comfort, gentlemen, is the main thing in male stylishness." Henri Duvernoi, 1913
1913… "The trouser crease is not there to indicate that the trousers are new," (Sir Archibald Hennington) explained, "but that great care was taken with them, that they were lightly hiked up prior to sitting, that they have been ironed many times."
… a panama "lent the most humble man the air of a landowner" and wound up losing favor precisely because it was too often seen "on the heads of coach drivers and humble folk…"
"Soon only artists will be seen in the street — it will be impossibly difficult to find a man there." Arthur Cravan, 1914
Designed in a post-war Italy undergoing economic difficulties, the 'tuta' was an everyday garment to be worn by everyone, rich or poor.
With the progressive installation of central heating, long underwear gave way to boxer shorts…
The youthful, postwar (1925) generation delighted in the rash style of its Oxford and Cambridge … peers. … criticize the slovenliness of these "young bloods" who dared remain in flannels and soft collars all day long, violating the Edwardian principle of appropriate dress for each specific time of day.
… the Men's Dress Reform Party… (1920s) disapproved of pants, neckties, suspenders and hats… advocated tennis shorts and bathing trunks at a time when men wore long trousers on the tennis court…
It was thus in the early 1930s that the Riviera became a fashionable spot for spring and especially summer holidays… this shift represented the coming of age of summer as a full-fledged "season" in itself.
… "up until now (1930s), the lower classes more or less followed, according to their means, models created by great master tailors… For the first time, he noted a revolt against good taste, … that revealed a desire to escape middle-class conventions and perhaps masked subversive intentions.
American Blacks — especially musicians — rejected the affected slovenliness of bohemian artists who had tried to set themselves apart from upper-middle class society starting in the nineteenth century. Black musicians wanted fine suits, magnificent ties, shiny shoes.
Saint-Germain was also where the first wide-cuffed black jeans appeared… and black turlenecks that could be worn for days on end without looking soiled. The sudden proliferation of black shirts was an unexpected development that was thought to reflect the moral quandary and chaos of the times. (40's, 50's)
In the years following the Liberation, Europe went resolutely American. … Men longed for featherweight, airy (or "ventilated") fabrics, and so the garment industry turned to new artificial fibers that would usher men into the wrinkle-free, Cold-War period.
Young people were the first to let shirts hang out, yet by 1953 one commentator claimed that "a man of forty [could] perfectly well wear a short-sleeve shirt outside of his trousers without appearing ridiculous…"
… the advent of jeans, T-shirt and leather jacket constituted an abrupt new crystallization of the slow and powerful subversion of dress codes by work clothes. It represented another stage in a struggle characterized by constant exchanges between upper and lower classes, between center and fringe, between establishment and nonconformists. But the special aura attached to it is also due to what might be called the 'material moment' of this crystallization. It occurred just when the garment industry was congratulating itself for having vanquished, thanks to synthetic fibers, the last obstacles to the democratization of elegance and correct dress. These sturdy, wrinkle-free fabrics henceforth embodied the abstract ideal of the classic suit: clean surface, permanent shape, and rigid lines, as keenly demonstrated by the "permanent crease" in pants so vaunted in the 1950s. Yet this ideal remained supremely tangential to the body itself.
… a tradition of sartorial diversity that held that there should be as many styles as there were cities, towns and schools.
Even more than Mary Quant (who had opened Bazaar in 1955), [John] Stephen heralded the new sales approach of the pop boutique with piped-in music, spot-lit displays and a young, fashionably-dressed sales staff. Items were easily available to customers who were encouraged to try things on, and garments were displayed on racks in front of the store.
[1960s] What shocked people more than anything, perhaps, was the ambiguous image… The question on everyone's lips was, "Is that a boy, or is it a girl?"
"I'm very bored with the young man about town with his little square Cartier watch, his Gucci shoes, his tight shirts, his gold pen, his mohair suit, and his initials on everything." [Michael] Fish rejected this sartorial expression of social conformism and distinction, preferring instead the hedonistic behavior of the modern individual who takes pleasure in dressing "for himself" as a type of "self-expression". These concepts became the ideological bedrock of men's fashion in the 1970s…
"A suit should move when one moves and, when one stops, should fall as though made of wood," explained Feruch…
All these little revolutions, from Nehru jackets to jersey and from visible seams to the elimination of interlinings, ultimately served to undermine the business suit rather than to illustrate its adaptability.
"The increasingly casual body positions and poses adopted by young people are obliging garment manufacturers to design clothing differently," stressed le Journal du textile in 1970, noting that "certain gestures that violate the code of accepted behavior — like putting one's hands in the pocket of one's jacket — mean that finishing touches have to be completely revised."
Sportswear constituted more than just a list of related articles, for it implied the abandonment of traditional etiquette, particularly the etiquette of wearing one's "Sunday best".
Then came the hobo style, sometimes in a "1930s Depression" version, sometimes in a "Post-World War III" incarnation. Japanese designers, who emerged on the scene in the early 1980s, turned this into a fashion for luxury rags.
The garb of these tribes (which often place males on fashion's front line) undergoes an incessant redefinition of codes as those codes become known. Once it falls into the public domain, an outfit is abandoned by its original wearers. "The pleasure we take from being a la mode," noted Toby Young, "consists in knowing about something which others do not."
Pants a little too short, sleeves a little too long, shirt collar a little too big — all these little imbalances created a slightly skewed male image that became typical of numerous eighties designers, notably Japanese. They began with outmoded garments and second-hand clothes like those that "street people" picked up at flea markets. Yohji Yamamoto … on August Sanders's photographic portrait of interwar Germany, an album full of pictures of farmers, engineers, road repairers, lawyers, mailmen, businessmen, boxers, architects, artists, teachers… etc. "It conveyed my ideal of clothing," remarked Yamamoto, "because people didn't 'consume' these garments, they might spend their entire lives in them… That's what life's about. Real clothes, not fashion. What makes a coat truly beautiful is that you're so cold you can't live without it."
Following in the footsteps of Gaston Louis Vuitton who in 1896 put the initials LV on his firm's luggage to distinguish it from imitations, as well as in those of tennis player Rene Lacoste who in 1933 marketed the "alligator" shirts he had been wearing on the court since 1927, Pierre Cardin decided in the 1960s to cash in on his own name by signing his neckties. Twenty years later… No item in the male wardrobe escaped the rage for signed garments.