Published on Thu, 2010-04-01 07:41
[Originally posted at OnEnsemble.org as "Recent book reviews – Apr 2010"]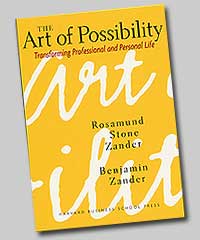 The Art of Possibility
Rosamund Stone Zander and Benjamin Zander
pub. 2002, 210p
source: LAPL
I first learned of the conductor Benjamin Zander from this wonderful TED talk.  When I later discovered he had written a book with his wife about his approach to managing personal and professional issues, I was excited to read it.
The Art of Possibility is a series of stories by the two authors, arranged by themes like "Launching the Journey" and "It's All Invented".  The stories are interesting and revealing of the Zanders' approach to life.  They spend much of the book discussing ways to deal with challenging situations that help maintain a positive attitude.  I particularly enjoyed Ben's music-related stories, dealing with the various challenges that face a conductor.
There were moments when I felt the authors belabored a point, and the text had hints of the tiresome, business-self-help genre.  Some of these feelings are probably attributable to my previous exposure to Mr Zander's stories.  I also feel I already implement many of the conscientious-thinking concepts of the book so I found myself skipping sections.