Published on Mon, 2011-05-09 13:13
[Originally posted at OnEnsemble.org as "Recent book reviews – May 2011"]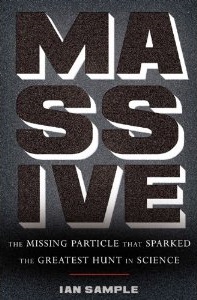 Massive – The Missing Particle that Sparked the Greatest Hunt in Science
Ian Sample
pub. 2010, 260p
source: LAPL
Massive is an overview of the hunt for the Higgs boson, the particle implicated in our theories of how most of the known elementary particles become massive. I expected the book to be slightly more technical, and was disappointed at the half-way point, but came around to enjoying the book as an historical narrative. Though it feels a bit like the book is written for those personally involved with the accelerators described (like a yearbook for Higgs Highschool), as a wannabe geek myself, I appreciated the info for its insider's look at scientists, their culture, and the LHC, the largest experiment in the history of humankind.
If all stable matter we know of is made up of quarks and electrons, then surely these elementary particles embody the smallest units of mass possible. By that reckoning, they are the origin of mass. If that was so, you could work out how much mass any object had just by totting up the contributions from all the zillions of quarks and electrons inside. It turns out it's not that simple…

The bulk of a proton's mass comes from the energy locked up in the movement of the quarks inside and the forces that bind them together. It leads us to a remarkable truth: any object you care to mention, from your pet dog to your cellphone, owes most of its mass to the intense energy it takes to keep it in one piece.
Their skills [the scientists at Princeton] had been honed by something of a tradition at the institute, weekly lectures with the intriguing name of Shotgun Seminars. At these lectures, no one knew who the speaker would be until a name was drawn from a hat… every member of the audience had to put his name into the hat and be ready to give the seminar if his name was the one drawn.
In the hearing… Senator John Pastore asked Wilson to explain how the facility [the National Accelerator Laboratory] would improve national security. Wilson said it had nothing to do with national security, but Pastore persisted. Finally, Wilson explained the value of the machine. "It has only to do with the respect with which we regard one another, the dignity of men, our love of culture… It has to do with: Are we good painters, good sculptors, great poets? I mean all the things we really venerate in our country and are patriotic about. It has nothing to do directly with defending our country except to make it worth defending."
Feynman described an experiment in which sugar is made from scratch in the laboratory. The sugar molecule is simple, made up of just 12 carbon atoms, 22 hydrogen atoms, and 11 oxygen atoms. What happens if you put the synthetic sugar into some water and add bacteria? Curiously, the bacteria will eat only half of the sugar. Here's why: synthetic sugar contains equal amounts of left-handed and right-handed sugar molecules. The two kinds are chemically identical, but mirror images of one another. In nature, for reasons unknown, sugar molecules only come in the right-handed variety…