Published on Sun, 2010-10-24 15:12
[Originally posted at OnEnsemble.org as "Recent book reviews – December 2010"]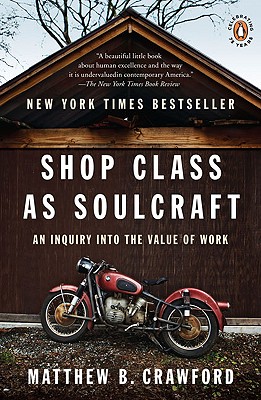 Shop Class As Soulcraft, An Inquiry Into the Value of Work
Matthew B. Crawford
pub. 2009, 246p
source: LAPL
This is a satisfying look into the ideology and aesthetics of a particularly deep motorcycle mechanic. Crawford espouses the inherent satisfaction of physical work, and the repair trades in particular, compared to the more ambiguous, and easily corrupted corporate environment. I particularly liked the book's tone, with a balance of introspection and authority, and was inspired to spend a frenzied all-nighter trying to build a custom computer case, the closest to motorcycle repair my skills would allow.
At this weird moment of growing passivity and dependence, let us publicly recognize a yeoman aristocracy: those who gain real knowledge of real things, the sort we all depend on every day.
The habituation of workers to the assembly line was thus perhaps made easier by another innovation of the early twentieth century: consumer dept… In a whole-sale transformation of the old Puritan moralism, expressed by Benjamin Franklin (admittedly no Puritan) with the motto, "Be frugal and free", the early twentieth century saw the moral legitimation of spending… As Lears writes, "Indebtedness could discipline workers, keeping them at routinized jobs in factories and offices, graying but in harness, meeting payments regularly.
"Time is money." … The idea of opportunity costs presumes the fungibility of human experience: all our activities are equivalent or interchangeable once they are reduced to the abstract currency of clock time, and its wage correlate. But, against the ever-expanding imperium of economics, we do well to insist on what we know firsthand, namely, the concrete heterogeneity of human experience… Economics recognizes only certain virtues, and not the most impressive ones at that. Spiritedness is an assertion of one's own dignity, and to fix one's own car is not merely to use up time, it is to have a different experience of time, of one's car, and of oneself.
I believe the example of the musician sheds light on the basic character of human agency, namely, that it arises only within concrete limits that are not of our making.
If the regard that many people now have for the wider ramifications of their food choices could be brought to our relationships to our own automobiles, it would help sustain pockets of mindful labor.
Too often, the defenders of free markets forget that what we really want is free men. Having a few around requires an economy in which the virtue of independence is cultivated, and a diversity of human types can find work to which they are suited. It is time to dispel the long-standing confusion of private property with corporate property. Conservatives are right to extol the former as a pillar of liberty, but when they put such arguments in service of the latter, they become apologists for the ever-greater concentration of capital. The result is that opportunities for self-employment and self-reliance are preempted by distant forces.