Published on Sun, 2012-07-01 07:00
[Originally posted at OnEnsemble.org as "Recent book reviews — July 2012"]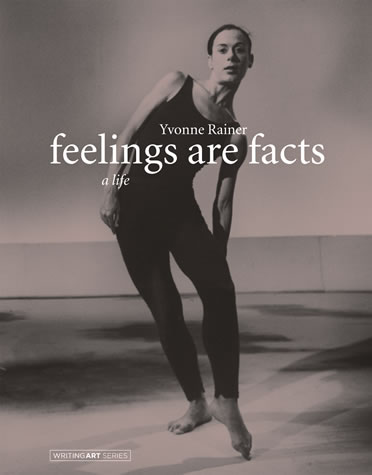 Feelings Are Facts
Yvonne Rainer
pub. 2006, 473p
source: LAPL
Having read so many "howto" choreography books recently, I was initially disappointed to realize this is an autobiography. It turns out it was just what I wanted to read.
The backstory and circumstances surrounding Rainer's experimental choreography were as eye-opening and inspiring as the works themselves, and I loved learning about both together. Rainer's life is incredible; the roller-coaster ride of a powerful, headstrong artist amongst an amazing group of creatives at an amazing time in dance history. As an aspiring choreographer, I found much to emulate, much to appreciate in my own circumstances, and much to think about. Thank you, Ms Rainer!
I ape everybody; I am a human garbage dump — the garbage being bits and pieces of movement seen and relished everyday of my life. I have faith in my garbage-disposal system. Everything that goes in, no matter how second-rate, will someday emerge in a personal, perhaps even original, form. So far, in my few efforts at choreography, this has proved to be so.
The question frequently asked or implied by the more conservative dance critics was, "Why are they so dead-set on just being themselves?" The transformations that had been celebrated in previous modern dance — the god-like, the ecstatic, the heroic, and the regal all canceling out the mortal, the pedestrian, the quotidian, and the athletic — seemed very tired to us, used up, effete.
Since there was nothing else to do, I worked. Worked mechanically and at times despairingly on movement. It was necessary to find a different way to move. I felt I could no longer call on the energy and hard-attack impulses that had characterized my work previously, nor did I want to explore any further the "imitations-from-life" kind of eccentric movement that someone — I forgot who — once described as "goofy glamour." So I started at another place — wiggled my elbows, shifted from one foot to the other, looked at the ceiling, shifted eye focus within a tiny radius, watched a flattened, raised hand moving and stopping, moving and stopping. Slowly the things I made began to go together, along with sudden sharp, hard changes in dynamics. But basically I wanted it to remain undynamic movement, no rhythm, no emphasis, no tension, no relaxation.
The dance took eight weeks to learn. For the first four weeks we rehearsed four times a week; after that, two or three times a week.
An essay I subsequently wrote about this dance contained a paragraph that has since come back to haunt me:
"No to spectacle no to virtuosity no to transformations and magic and make-believe no to the glamour and transcendence of the star image no to the heroic no to the anti-heroic no to trash imagery no to involvement of performer or spectator no to style no to camp no to seduction of spectator by the wiles of the performer no to eccentricity no to moving or being moved."
That infamous "NO manifesto" has dogged my heels ever since it was first published. …
The permission (Rainer gave to the dancers) to "behave spontaneously" was like a contagion, spreading over the whole endeavor.
An old toothless man sat next to us both nights (at a performance in India), head bundled against the chill, blanket around his shoulders, gaze riveted on the stage, mumbling and chanting to himself. He was really in there. It meant more to him than a moment's entertainment and escape from his life. And something other than what opera is to Westerners.
Excerpts from Firestone's analysis of romantic love still read with a burning clarity:
"Thus 'falling in love' is no more than the process of alteration of male vision — idealization, mystification, glorification — that renders void the woman's class inferiority.
However, the woman knows that this idealization, which she works so hard to produce, is a lie, and that it is only a matter of time before he 'sees through her.' Her life is a hell, vacillating between an all-consuming need for male love and approval to raise her from her class subjection, to persistent feelings of inauthenticity when she does not achieve his love. Thus her whole identity hangs in the balance of her love life. She is allowed to love herself only if a man finds her worthy of love."
Another asked, "Why are the Judson dancers so dead-set on just being themselves?" Without going into an extended examination of the ontological contradiction in such a perception — there's a way in which "being oneself" is quite impossible, especially in front of an audience — I will confine myself to the simpler assertion that we refused to transform ourselves into dramatic or mythical personages.
John Cage's famous story comes to mind here, about studying with Shoenberg, to whom he confessed that he had no feeling for harmony. "He then said that I would always encounter an obstacle, that it would be as though I came to a wall through which I could not pass. I said, "In that case, I will devote my life to beating my head against that wall." In my case, lacking a "feeling" for plot and character, the essentials of traditional narrative, I have devoted much of my career to banging my head against that wall — with no expectations, I should add, of gaining entrance to a narrative mainstream, but rather to wrestle with its prescriptions.