Published on Sun, 2010-10-24 15:12
[Originally posted at OnEnsemble.org as "Recent book reviews – December 2010"]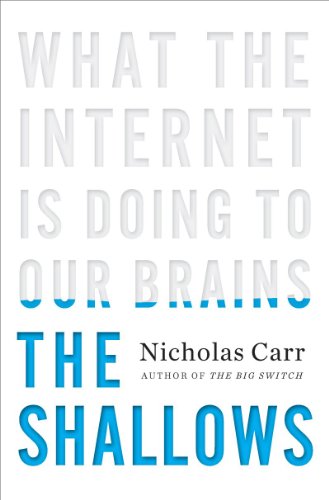 The Shallows: What the Internet Is Doing To Our Brains
Nicholas Carr
pub. 2010, 304p
source: LAPL
Although I share many of the author's core reservations about the internet and computer use, I found myself resisting this book's arguments. Like Carr, I worry how easily I am distracted by the internet, and I expect the cultural transformation we are undergoing is not entirely positive. But despite my readiness to accept Carr's criticisms of the digital age, I was frustrated. Over the course of most of the book's arguments, I would transition from agreeable, to defensive.
When we go online, we, too, are following scripts written by others — algorithmic instructions that few of us would be able to understand even if the hidden codes were revealed to us. When we search for information through Google or other search engines, we're following a script. When we look at a product recommended to us by Amazon or Netflix, we're following a script. When we choose from a list of categories to describe ourselves or our relationships on Facebook, we're following a script. These scripts can be ingenious and extraordinarily useful, as they were in the Taylorist factories, but they also mechanize the messy processes of intellectual exploration and even social attachment. As the computer programmer Thomas Lord has argued, software can end up turning the most intimate and personal of human activities into mindless "rituals" whose steps are "encoded in the logic of web pages." Rather than acting according to our own knowledge and intuition, we go through the motions.
I'm with Carr thus far. I too have reservations about overly-powerful Google, sites that encourage over-consumption like Amazon, and walled-gardens like Facebook. But Carr goes on to cite a variety of psychology experiments ("Spending time in the park… significantly improved people's performance on the cognitive tests") whose implications should be read far more narrowly than as proof that the internet is bad for our brains.
But the inevitability of turning the pages of books into online images should not prevent us from considering the side effects. To make a book discoverable and searchable online is also to dismember it. The cohesion of its text, the linearity of its argument or narrative as it flows through scores of pages, is sacrificed. What that ancient Roman craftsman wove together when he created the first codex is unstitched. The quiet that was "part of the meaning" of the codex is sacrificed as well. Surrounding every page or snippet of text on Google Book Search is a welter of links, tools, tabs, and ads, each eagerly angling for a share of the reader's fragmented attention.
Carr is almost certainly a proprietary software user (I'd guess Mac). For him, computers and the internet are an invasion, disrupting our brains and our culture, and forcing us to adapt to a new world that is not as healthy or wholesome. This is the feeling imposed by Apple and Microsoft, companies who see us as passive consumers and who design tools that hide the underpinnings of computing and prevent access to the deepest knowledge of our machines. Carr needs to try Free Software (open source software), where one is empowered with deep and meaningful control and is assumed to be a creator and collaborator, rather than a consumer. He needs to take responsibility for and control of his own computing and use the machine to empower his own personalized way of working.
On the Net, there are windows within windows within windows, not to mention long ranks of tabs primed to trigger the opening of even more windows.
Get this man Firefox with Adblock Plus, stat!
There is some thought-provoking stuff in The Shallows, though, and I was glad to have been forced to pause and think about the possible side-effects of my own internet use. Here were some of my favorite bits.
Intensive multitaskers are "suckers for irrelevancy", commented Clifford Nass, the Stanford professor who led the research.
But the extensive activity in the brains of surfers also points to why deep reading and other acts of sustained concentration become so difficult online. The need to evaluate links and make related navigational choices, while also processing a multiplicity of fleeting sensory stimuli, requires constant mental coordination and decision making, distracting the brain from the work of interpreting text or other information. Whenever we, as readers, come upon a link, we have to pause, for at least a split second, to allow our prefrontal cortex to evaluate whether or not we should click on it. The redirection of our mental resources, from reading words to making judgments, may be imperceptible to us — our brains are quick — but it's been shown to impede comprehension and retention, particularly when it's repeated frequently.
The three top-selling Japanese novels in 2007 were all originally written on mobile phones.